In order to manage and analyze customer interactions and data across the customer lifecycle, businesses employ a combination of practices, strategies, and technologies known as Customer Relationship Management (CRM). The objective is to strengthen interactions with customers in order to promote client retention and increase sales. CRM systems gather information about customers from various points of contact between them and the business, such as the company's website, the company's phone line, live chat, direct mail, marketing materials, and social media. CRM systems can also give staff workers who deal with consumers in-depth knowledge of their personal data, purchasing history, shopping preferences, and issues.
Why CRM is good for organizations?
Organizations of all sizes, from small enterprises to major multinationals, can profit from the adoption of CRM systems by:
It can be easier for customer support agents to give better and quicker customer service if customer information like past purchases and interaction history is readily available.
Through reporting and visualization tools, firms can use customer data collection and access to discover trends and insights about their clients.
Automated client support and mundane yet required sales funnel chores.
CRM Components
At its most basic level, CRM software compiles customer data and stores it in a single CRM database for easier management and access by company users.
CRM systems have had a lot of extra features added to them throughout time to increase their utility. Some of these features include the ability for managers to monitor performance and productivity based on data logged within the system, as well as the ability to automate various workflow automation processes, such as tasks, calendars, and alerts, depending on system capabilities. Other features include recording various customer interactions via email, phone, social media, or other channels.
Automation in marketing. At various stages of the lead generation lifecycle, CRM platforms with marketing automation features can automate repetitive operations to improve marketing efforts. To convert a sales lead into a paying customer, the system may, for instance, send email marketing content automatically as sales prospects enter the system.
Automation of the sales force. Sales force automation solutions keep track of customer interactions and automate some sales cycle tasks that are essential for following up on leads, acquiring new clients, and cultivating a devoted clientele.
Automating contact centers. Contact center automation, which is intended to lessen the monotonous portions of a contact center agent's job, may include prerecorded voice that helps with client problem-solving and information sharing. To shorten call times and streamline customer service procedures, a variety of software tools that interact with the agent's desktop tools can fulfill consumer demands. Chatbots and other automated contact center solutions can enhance the user experience for customers.
Location-based services or geolocation technology. Some CRM systems include the capability to develop geographic marketing campaigns based on the physical locations of consumers, occasionally connecting with well-known GPS (global positioning system)-based apps. To discover sales prospects based on a location, geolocation technology can also be utilized as a networking or contact management tool.
Automation of the process. CRM solutions enable firms to streamline routine chores, freeing up staff to concentrate on innovative and higher-level work. Management in charge. CRM allows for the tracking of sales leads, giving sales teams a central location to enter, monitor, and analyze lead data.
Human resource administration (HRM). CRM systems support the tracking of employee data within a business, including contact details, performance evaluations, and benefits. This makes it possible for the HR division to manage the internal staff more skillfully.
Analytics. By evaluating user data and assisting in the creation of focused marketing initiatives, analytics in CRM helps to increase customer satisfaction rates.
synthetic intelligence. CRM solutions now use AI technologies like Salesforce Einstein to automate repetitive activities, discover customer buying trends, forecast future customer behavior, and more.
Project administration. Some customer relationship management (CRM) systems have tools that make it easier for users to monitor client project aspects like goals, strategic alignment, procedures, risk management, and progress.
Combining with different software. Systems for call centers and enterprise resource planning (ERP) can be integrated with many CRM systems.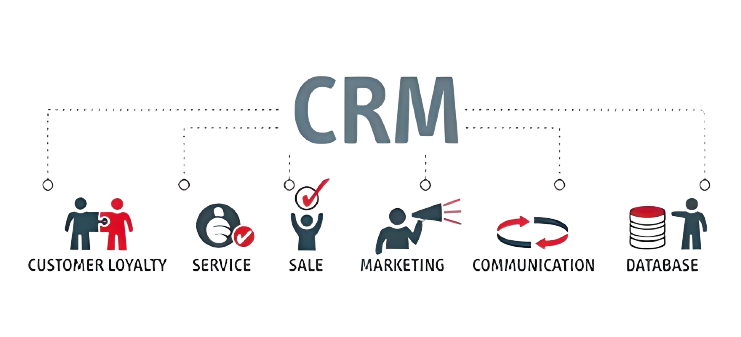 Types of CRM Technology
CRM solutions are primarily sold by Salesforce, Microsoft, SAP, and Oracle. Other providers are well-liked by small- and medium-sized organizations, but these four are typically preferred by big businesses. The following are the various CRM technology options:
1) Cloud-based CRM
Data is stored on an external, remote network with cloud computing CRM, also known as SaaS (software as a service) or on-demand CRM, so that employees can access it whenever they need to, from any location with an internet connection. In some cases, a third-party service provider is in charge of installation and maintenance. Companies with little technological resources or knowledge are attracted to the cloud's speedy, comparatively simple deployment possibilities.
Since the organization does not physically manage the storage and upkeep of its data, data security is a top concern for businesses adopting cloud-based technologies. The data of an organization may be compromised or lost if the cloud provider goes out of business or is bought out by another business. When data is originally transferred from an organization's internal system to the cloud, compatibility problems might also occur.
Businesses can view cloud CRM as a more economical choice. Users are often charged on a subscription basis by vendors, who give them the choice of monthly or annual payments. Cost might still be an issue, though, as paying subscription fees for software can end up being more expensive in the long run than on-premises alternatives.
Salesforce, HubSpot, and Zendesk are a few well-known cloud-based CRM vendors.
2) On-premises CRM

According to this approach, the organization employing the CRM software is responsible for the administration, management, security, and maintenance of the database and information. With this strategy, the business buys licenses in advance rather than yearly subscriptions from a cloud CRM provider. The user is responsible for paying for any changes to the program, which is hosted on the business's servers. To properly integrate a company's data, it typically takes a drawn-out installation process. An on-premises deployment may be advantageous for businesses with sophisticated CRM requirements.
Numerous cloud-based vendors of CRM software, like WorkWise and Salesforce, also provide on-premises versions of their programs.
3) Open source CRM
An open source CRM system makes its source code available to the public, allowing businesses to modify it without paying for it. Open source CRM platforms also make it possible to integrate and customize data links on social media platforms, helping businesses who want to advance social CRM practices.
Alternatives to the proprietary CRM platforms from Salesforce, Microsoft, and other vendors include OroCRM, Bitrix24, SuiteCRM, and SugarCRM.
The adoption of any of these CRM deployment strategies depends on the demands, assets, and objectives of the organization since each comes with a unique price tag.