The most popular marketplace for business apps is called AppExchange. AppExchange apps extend Salesforce to every department and sector and are customized for Salesforce. It's a tried-and-true ecosystem of apps with millions of downloads and countless user reviews to assist you in finding the ideal fit for your company. Moreover, AppExchange offers more than just business software. Additionally, you can locate parts, consulting companies, and developers to assist you in enhancing Salesforce's functionality and managing your organization through apps.
More than 300 Salesforce1 apps are available in the Salesforce AppExchange.
How do you get started on AppExchange?
Here are the first five steps for using AppExchange.
Create a road map that outlines your objectives for both long- and short-term success to define success. Do you have money set out for purchasing applications, or should you start with free ones?
Use the search and filter functions on the AppExchange website to help you focus your search after you've established your objectives and your spending limit.
Read testimonials: With more than 50,000 user reviews, it's simple to gain customer feedback to guide your choice.
Free trials are a terrific way to assess your next app before you decide to purchase. To test how well the app will operate in your environment, simulate it in a Salesforce sandbox.
Learn about your community: The Salesforce community has more than 14 million members, including hundreds of devoted MVPs and users who can contribute their knowledge and experience.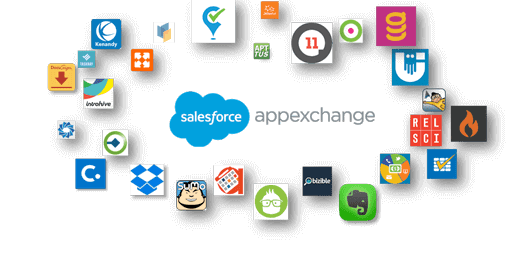 How do you install an app from AppExchange?
Verify the prerequisites and test the app listing's functioning before deploying an AppExchange app into your production instance of Salesforce. It is advised that you follow these instructions before installing any of the above apps in your production organization.
Verify that the custom app you wish to download only has components that are compatible with your Salesforce Edition by checking the edition compatibility.
Verify external services: Ensure you have access to any external services mentioned in the custom app you want to download. An app with ties to Google Maps for account management is an example. It would be necessary to have access to Google Maps for this service to function.
Test drive: Most apps will offer free trial versions that can be used. You can see the essential features of the desired software before installing it as an admin or read-only user.

Installation into Developer Edition or Sandbox: It is advised that you first install the desired software into either a Developer Edition org or a Sandbox Edition org before moving it into your production organization. You can test the app further in either of these settings, going beyond the limitations of a read-only user. The newly installed app will then allow you to create, amend, and delete records. These options are not accessible during a test drive. Here, you can register for a cost-free development environment.
Installing the desired software into your production company is an option if you are happy with its functioning.
Who will have access to the app after it's installed?
You can choose to make the app visible to all users, just admins, or some users during the installation process. You can later make the app accessible to other profiles if you restrict access to admins only.