What Is Salesforce's Einstein?
Salesforce Einstein is a set of AI technologies that allow Salesforce users to use algorithms to analyze data inside Salesforce. Einstein can be used to automate reports, pinpoint workflow needs, and even analyze the effectiveness of teams. In this blog, learn how to work with Einstein in Salesforce. Discover precisely what this powerful solution has to offer, so that you can determine if it meshes with your organization's needs. Discover how Einstein can help you work smarter in Sales Cloud, the Marketing Cloud, communities, and more.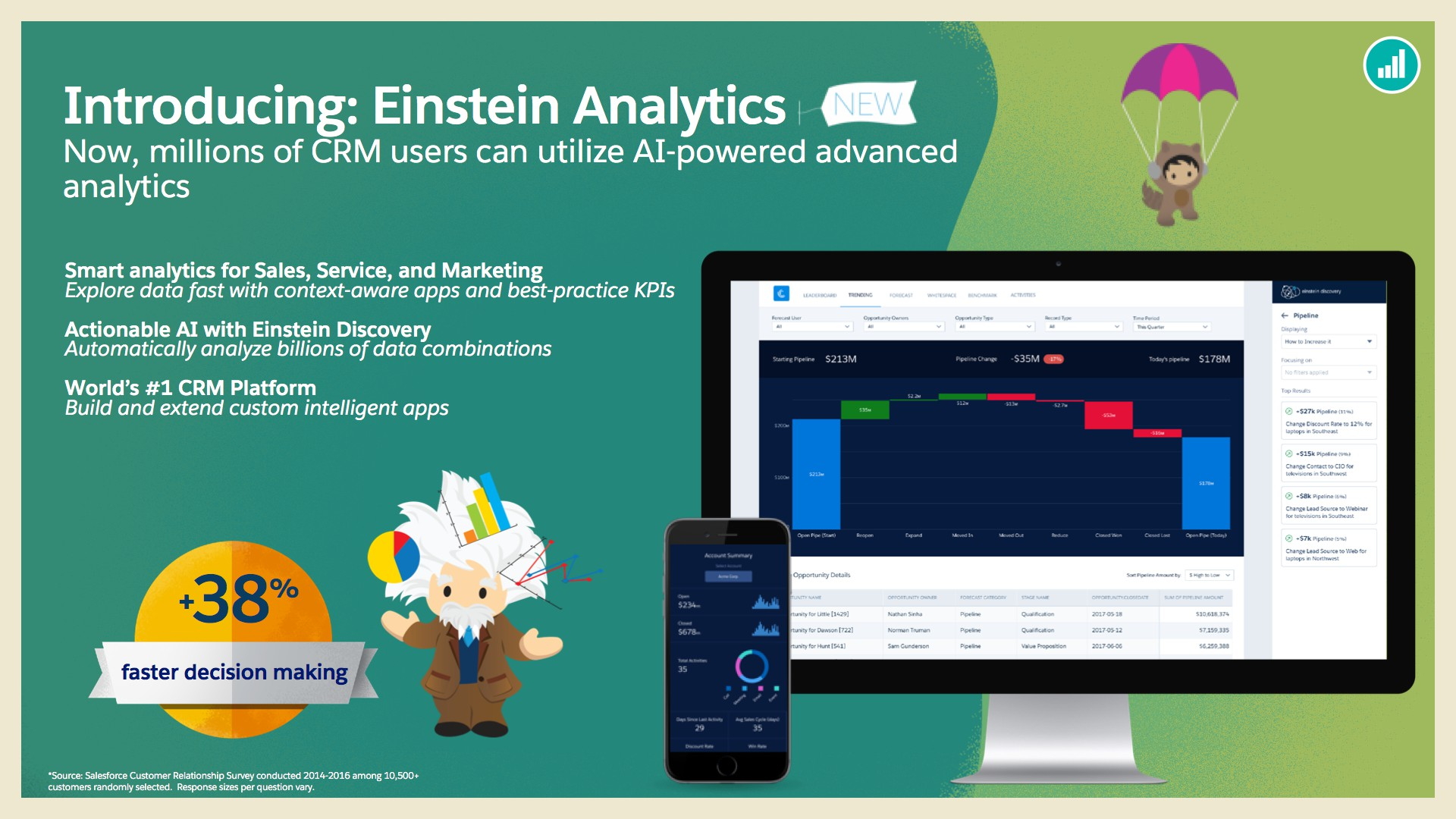 What Is the Goal of Einstein Analytics?
The goal of Salesforce Einstein is to give sales and marketing departments more comprehensive and up-to-date views of customers and sales prospects. To bring AI to the Salesforce clouds, the company made a series of purchases that made it possible to enhance Salesforce cloud products with machine learning and deep learning analytics. Customer data insights gained from Einstein integration can proactively help companies avoid customer service headaches; they can also help improve the bottom line by helping to predict where a potential customer is in the sales cycle and which communication channels they will respond to.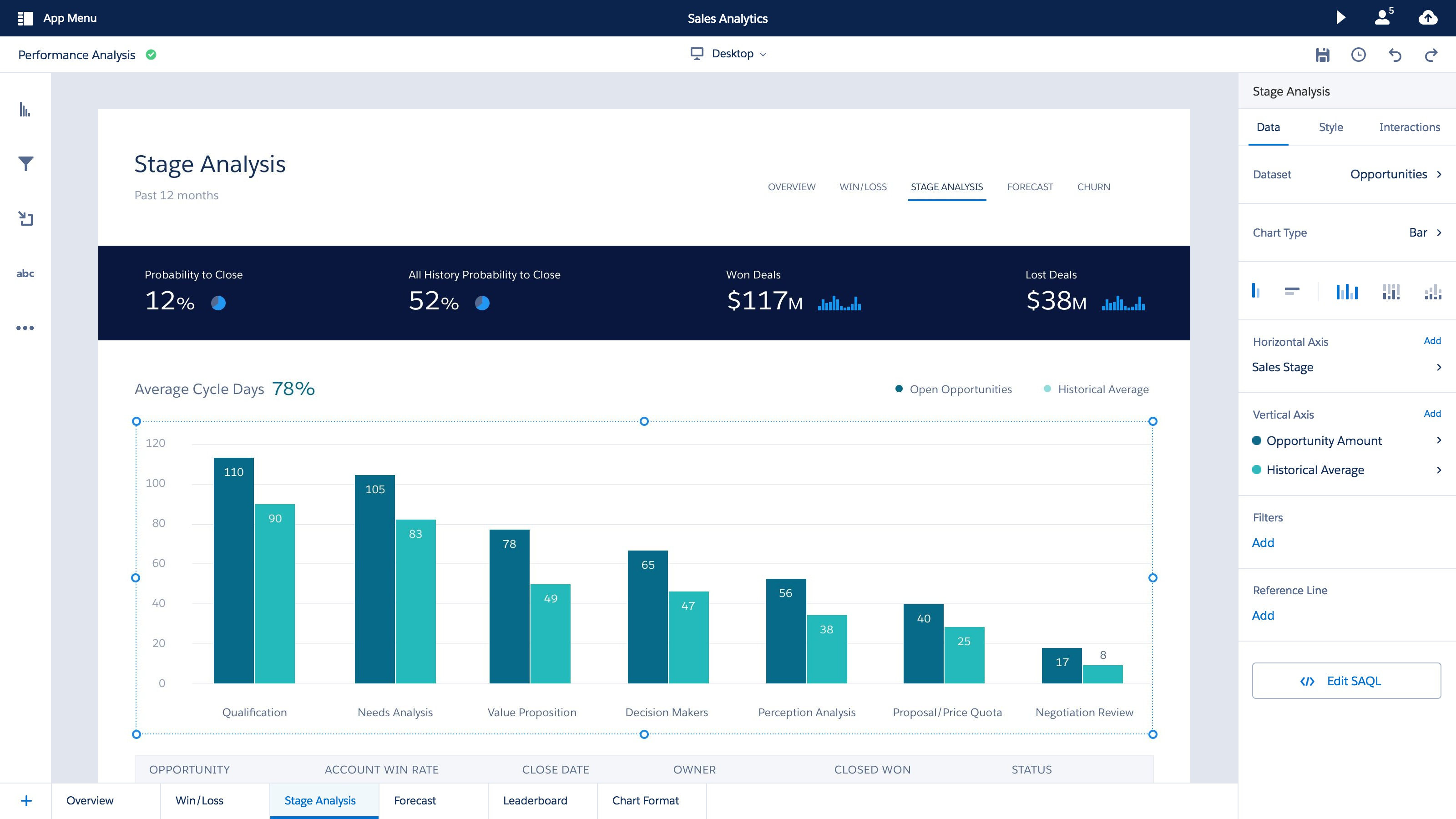 As customer relationship management (CRM) becomes more data-driven, the role of predictive analytics has grown and become more important. To that end, Salesforce has partnered with IBM to take better advantage of unstructured data. Salesforce Einstein's structured customer data can be combined with IBM Watson's ability to analyze weather patterns, for example, and so potential customers for seasonal products can be targeted more accurately.
What Einstein Analytics Offer?
Analytics apps for sales, service, marketing: Salesforce has revolutionized CRM analytics with role-specific, native analytics apps that break down the barriers to data accessibility, exploration and actionability for every Salesforce user. Einstein Analytics apps are pre- configured with role-specific KPIs built in Salesforce, providing users with an intuitive, self-service way to drill into the most up-to-date data, uncover insights, collaborate and take instant action from any device. Sales Analytics allows sales reps and leaders to manage forecasts, pipelines and team performance. Service Analytics enables service agents and call center managers to improve customer satisfaction, agent efficiency and channel optimization. B2B Marketing Analytics brings data-driven marketers' insights on engagement, pipeline and campaign performance needed to take action. In addition, customers can also build and customize their own custom analytics apps on the Salesforce platform -- with the new analytics app designer, visual data prep and external data connectors.
Actionable AI with New Einstein Discovery: Einstein Discovery conducts thousands of statistical checks to confirm each trend is valid, and also provides intelligent explanations for the patterns it identifies, delivered in easy-to-understand language. To complete the analytics workflow, Einstein Discovery offers guided recommendations on how to take action and even helps CRM users communicate its findings quickly with auto-generated slide presentations that contain visualizations and talking points. For example, the Sales Analytics app can analyze thousands of deals with Einstein Discovery, which can tell a sales manager the top three factors that have the greatest impact on closing a deal across products, regions, industries and more. Furthermore, because Einstein Analytics is not a black box, business analysts can access the complete model and algorithms behind the analysis to gain a deeper understanding of how the predictions and recommendations were derived.
Community of Analytics Trailblazers: Salesforce is empowering everyone to develop analytics apps faster and together. With Trailhead, Salesforce's interactive, guided and gamified learning platform, anyone can become an analytics trailblazer. Additionally, with AppExchange, the world's largest business app marketplace, ISVs can build and extend the power of Einstein Analytics to more roles, departments and industries, empowering all business users to be smarter about their customers with actionable insights. In fact, more than 20 analytics apps from leading ISVs are already available today on the AppExchange.
References
- Vidyard