To maximize the value of moving your business operations to Lightning Experience, invest some time in learning about the possibilities. The power of Lightning means you can create a user experience that improves workflow and productivity, makes jobs easier and more intuitive, even transforms your business. When you understand your options, you're well set to design a thoughtful transition that reevaluates existing customizations and eliminates old problems. And you're armed with the data to make a compelling case to your leadership and stakeholders.
Besides transforming Salesforce CRM, Lightning Experience also extends to service, apps, platform, and more. No matter what sector you're in, Salesforce understand that the way people work is changing. All this change is greatly influenced by the rise of mobile. Sales reps at your company are already using mobile to research prospective customers, get directions to client meetings, connect socially with customers, and more. That's why Lightning Experience takes the cool stuff from the Salesforce mobile experience and brings it to the desktop.
When we're talking about Lightning Experience, we're talking about pages in Salesforce that are optimized for sales and service use. We're talking about new features that help your sales and service teams focus on the right deals, the right customers, and the right activities, every time users log in. We're talking about flexible, interactive tools that help everyone visualize data and take care of business.
Why Salesforce Built Lightning Experience?
Let's start with the name, and while we're at it, the correct spelling of the name.
So why the name "Lightning?" Well, think for a moment about actual lightning, the kind you see during a storm. Think about how fast it strikes; if you blink, you might miss it. Think about how beautiful it is; lightning can be stunning to behold. Finally, think about how unique each lightning bolt is; no two are the same.
That's a lot like Lightning Experience. It's fast, it's beautiful, and it's unique to each sales and service user. It's a simpler user experience, designed to help your sales team sell faster, with personalized alerts and an interactive assistant to keep sales reps focused on what's important. It's designed to help service reps support customers faster, bringing cases, knowledge, and support tools together in an efficient, problem-solving environment. All of this drive improved productivity for everyone in your org.
What About the Previous User Experience?
It's still here, and for the purposes of clarity, we're calling it Salesforce Classic.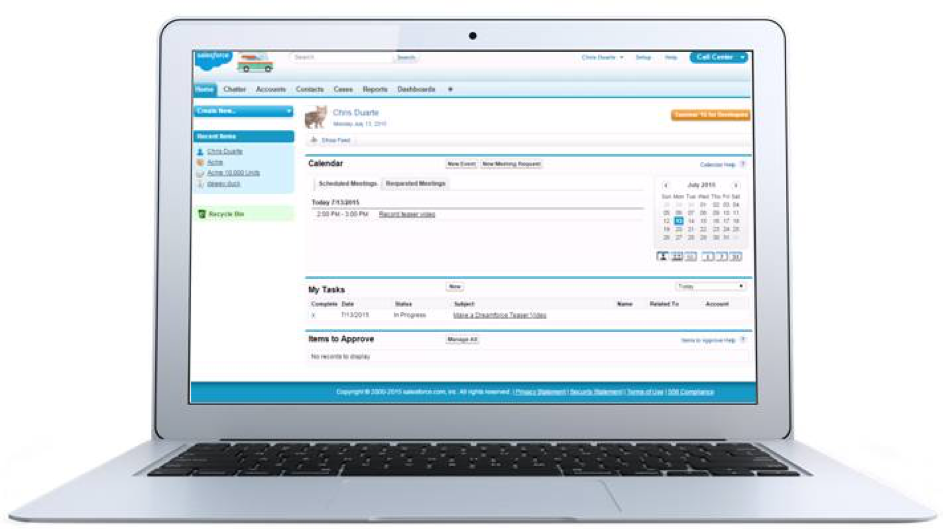 When we say Salesforce Classic, we're talking about the venerable Salesforce interface that immediately predates Lightning Experience. It's the one with the App Menu and the user name, Setup, and Help links in the top right corner of the header. If you haven't customized your logo, you also see the seasonal Salesforce logo in the upper left corner.
İkinci Görsel
It's important that you get comfortable with telling the two experiences apart so you're ready to help users with questions. After you enable Lightning Experience, one of the first things you'll need to identify on a troubleshooting call with a user is, are they in Lightning Experience or in Salesforce Classic?
What Makes Lightning Experience Special?
With all its new features and redesigned pages, there are many key benefits to using Lightning Experience. We won't cover everything here, but for each area of the product, we'll highlight some of the neatest things.
To kick things off, let's talk about some of the highlights:
Efficient navigation and the ability to switch between custom-branded apps

Quick access to productivity tools like Notes and Recent Items in the utility bar

New record layouts that focus on what you can do instead of what you can view

Turbocharged list views that let you easily filter and visualize your data

Beautiful dashboards with components that span both columns and rows

Sleek report views that you can filter quickly to see the data that's most important to you
Take a Tour of Lightning Experience
Home
Salesforce have reimagined the way you start your day with a brand new, intelligent page. Now your sales reps can monitor their performance to goal and get insights on their key accounts. Plus, they've added an Assistant, which is your users' action list of things to do. You can also use the Lightning App Builder to create custom Home pages that appear for different profiles.
Start your day fast with a customizable, intelligent page.

See relevant, timely news articles about customers, partners, and competitors with News.

See upcoming meetings and tasks due today.

Use the Assistant to identify key issues to work on today.

Focus your selling activities on your Top Deals.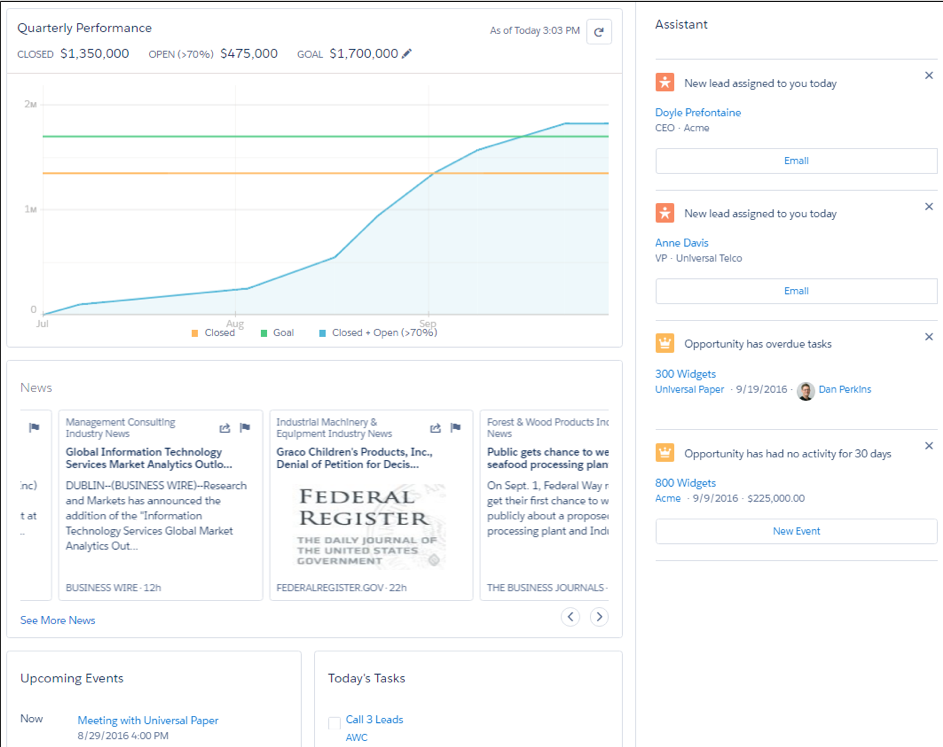 Opportunity Workspace
Salesforce have taken your sales process and put it into an action-optimized workspace, designed to help your sales reps work their deals faster and smarter. You can customize coaching scripts for each step in the sales process, create records quickly with fewer clicks, and ultimately close deals faster.
Showcase key record details in the new highlights panel at the top of the page.
Use the handy composer to quickly log calls, create tasks, send emails, and more.
Get key coaching details with a customizable Path to support your sales process.
See a wealth of related information on hover using quick view, without ever leaving the opportunity page.
Add related records—like contacts—in context with minimal clicks.
View relevant, timely news about the account the opportunity's associated with.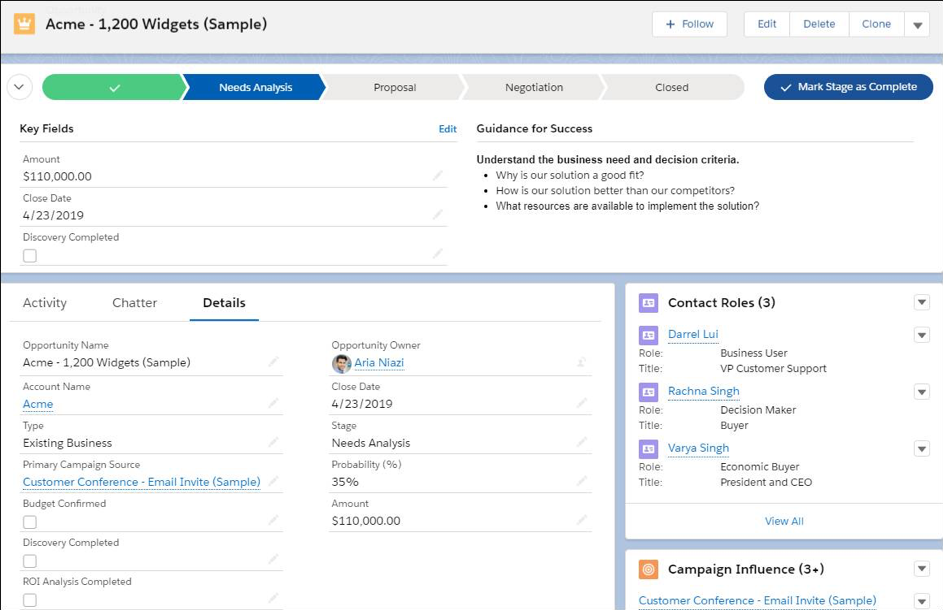 Accounts and Contacts
Like with opportunities (and leads), Salesforce have optimized the layout for accounts and contacts, organizing the content by their primary use case: reference. Now your sales and service reps can find information and gather information at a glance.
Locate important data efficiently with the redesigned Lightning Experience page layout.
Get key coaching details on account records with a customizable Path to support your sales process.
Get the latest news for your customers with News.
Work smarter and keep your data clean with field-level duplicate matching.
Review past and upcoming activities at a glance.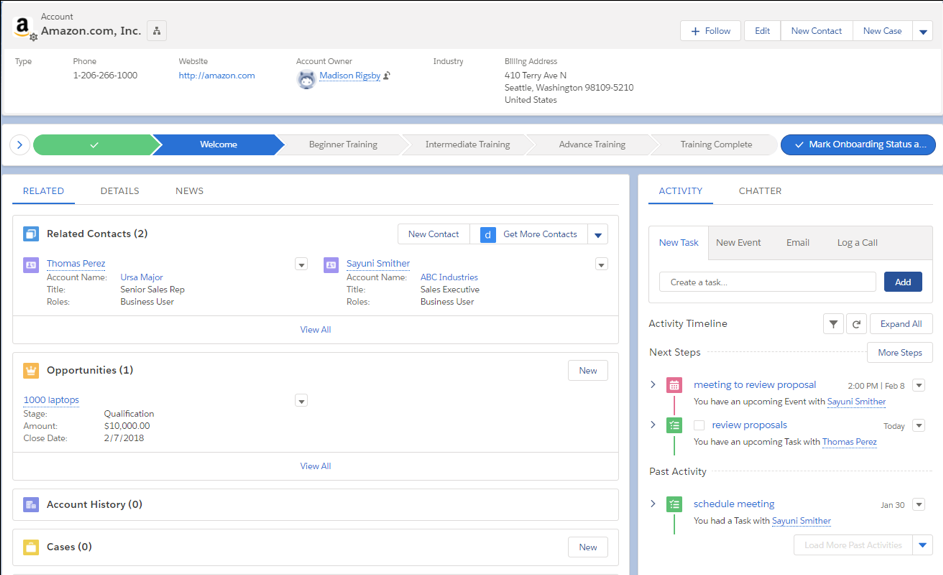 Reports and Dashboards
Your users will love the ability to create their own filters on reports. You will appreciate the updated dashboard editor, which features components that span both columns and rows.
Create filters while viewing a report.

Make visually awesome dashboards with more than three columns.

Transition easily from Salesforce Classic to Lightning Experience with reports and dashboards that are automatically viewable in the new interface. And they inherit all permissions and sharing settings that were defined in Salesforce Classic.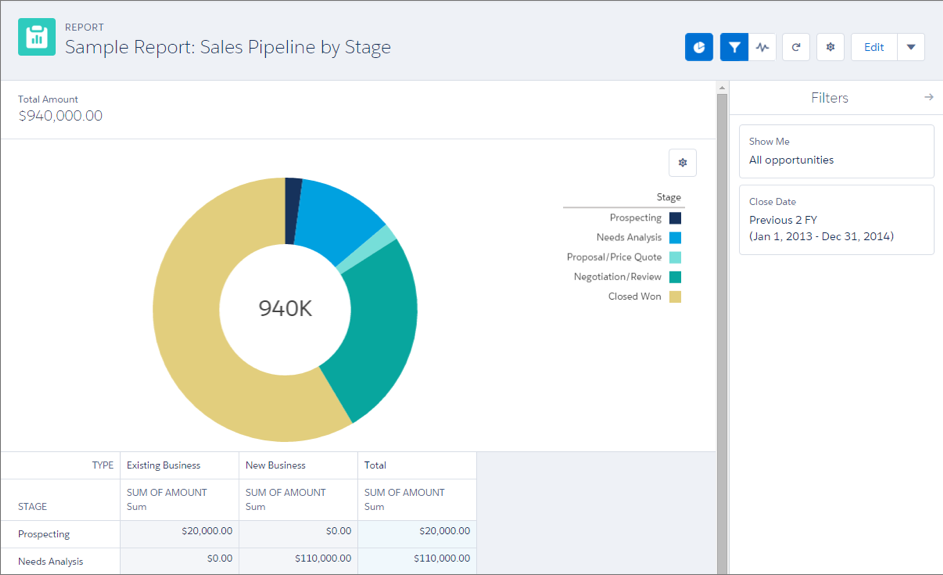 List Views
Now your sales and service reps can visualize any list view graphically with a handy chart, or easily apply filters to narrow the results.
Visualize your data in seconds with list view charts, and quickly create filters to slice your data how you want.
Create list views by using Lightning Experience's intuitive filters panel.
Use type-ahead search to find a favorite list view fast.
Automatically open your list views created in Salesforce Classic from Lightning Experience.
Use inline editing to make quick changes to records in a list view.
Find the data you need in a snap with the list view search bar.
Share your list views with user groups in your org.
Pin a list view to make it load as your default list.

Kanban View
The Kanban view organizes a set of records into columns to track your work at a glance. To update a record's status, drag it into a different column. You can configure the board by selecting what fields columns and summaries are based on. And, get personalized alerts on key opportunities in flight.
Visualize your work at each stage or status.

Move records between columns using drag and drop functionality.

Configure columns and summary fields on the fly.

Edit or delete records to keep them up to date.

Quickly create filters to slice your data how you want.

For opportunities, get alerts to notify you when action is needed on a key deal.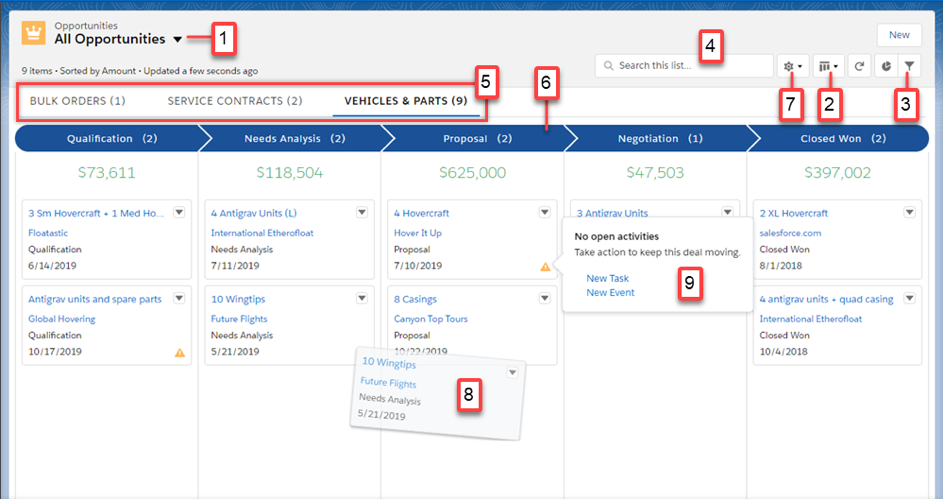 The records in the Kanban view are based on the selected list view.

Easily toggle between the list view grid view and the Kanban view.

Filter your records to view a particular subset of your records.

Search for records within the current view.

Select which record type to view.

Columns are created based on the grouping field.

Change how columns are organized and summarized using Kanban settings.

Quickly move a record to a different column by dragging the card.

For opportunities, alerts tell how to keep a deal on track, for example, create a task or event.
Console Apps
Minimize clicks and scrolling for your sales and service reps so they can quickly find, update, and create records. A Lightning console app is a tab-based workspace that lets users manage multiple records on a single screen. Take advantage of the standard Lightning console apps for Sales and Service to support your fast-paced environment.
Other Highlights
Make your users more efficient and allow them to switch between apps that you can brand and customize. Create records and access recent records and lists for certain items directly from the navigation bar.
See open tasks, planned meetings, and accomplishments in the activity timeline on activity-enabled objects. Quickly log calls, create tasks, send emails, and more from the handy composer.
Find your tasks on a new page for tasks, including the new master-detail view, which lets you see a single task and your entire list of tasks side by side.
Use phone features without ever leaving Salesforce. Make and receive calls, add call notes, and log call information with ease.
Send email through Gmail or Office 365 accounts with your Salesforce email. And see the email messages you've sent in your Gmail or Office 365 Sent Items folder for flawless integration.
Take better notes with auto-save, rich text capabilities, inline images, and versioning. Relate a note to multiple records and share notes with teammates or Chatter groups.
Enjoy a richer file preview experience that doesn't require Adobe Flash Player.
Find records faster with improved global search, which includes top results and recent records.
How Different Personas Benefit from Lightning Experience
So now you have a good sense of some of the exciting features that make Lightning Experience special. But at the end of the day, how do these features and other aspects of Lightning Experience actually benefit you and your users?
The short answer: Lightning Experience makes people more productive, no matter what role they play. And scout's honor, that's not just hyperbole. Customers who've made the move to Lightning Experience are seeing sizable increases in efficiency, including less time spent managing pipelines, faster win rates, better agent productivity, and faster deployments.
Let's look at the productivity benefits for each Salesforce persona.
Sales Users
Lightning Experience is a streamlined, action-oriented environment that promotes an efficient sales workflow. In every context, pages focus on the most important information first. Workspaces make your sales process clear, supported by best practices at every step. Separate tabs for details, related information, and collaboration bring order to pages and reduce the amount of scrolling to find things. Actions like taking notes, making calls, and sending emails are right where they're needed, in context. And baked-in intelligence, from news and insights to Salesforce Einstein, tees up teams to close more deals in less time.
Service Users
With Service Cloud for Lightning Experience, service agents are on the case resolution fast track. The Lightning Service Console is a high-productivity workspace with a single view of every customer, so service agents don't have to waste time toggling between multiple apps. The console guides agents through your case management process and makes every step faster to complete with efficiencies like split view, drag-and-drop attachments, and case detail hovers. Add Lightning Knowledge to the mix and agents have the tools to find and share the right information, attach articles, and get to closed cases faster.
Admins
With the Lightning framework, admins can create and customize pages faster, without having to start from scratch each time. Don't let the term framework scare you off. Admins can work their magic using the framework's declarative tools that are available from Setup in Lightning Experience.
The building blocks that make up Lightning Experience are Lightning components. These components are reusable throughout the interface so it's easy to create just what's needed. Lightning experience provide a bunch of pre-built components to get started, and an intuitive visual tool called Lightning App Builder. Admins can add, remove, and rearrange components on the home page or record pages with drag-and-drop ease. And beyond page layout decisions, admins can control how components behave, configuring the same component to use different properties in different locations...even on the same page. This flexibility significantly speeds up customization work.
Developers
The Lightning framework is a productivity boon for developers too. It's fast to create custom Lightning components using the building blocks included in the framework. And that's just the start. The framework provides many other tools to help developers. For example, the Salesforce Lightning Design System is a complete styling library, so developers don't have to write their own HTML or CSS. Lightning Data Service consolidates data access code in reusable components, eliminating the need to write controller code. That's just scratching the surface. But the added efficiency for developers is obvious: all this reduced complexity means that developers can code faster and spend less time on performance and quality testing.