Salesforce for Marketing is built on the world's #1 CRM platform. It enables user to know user's customer, personalize with intelligence, and engage across the entire journey. It's the only integrated customer engagement platform that enables user to deliver personalized customer engagement at scale on every channel, from email to web, mobile, social, and digital advertising. Marketing Cloud covers it all.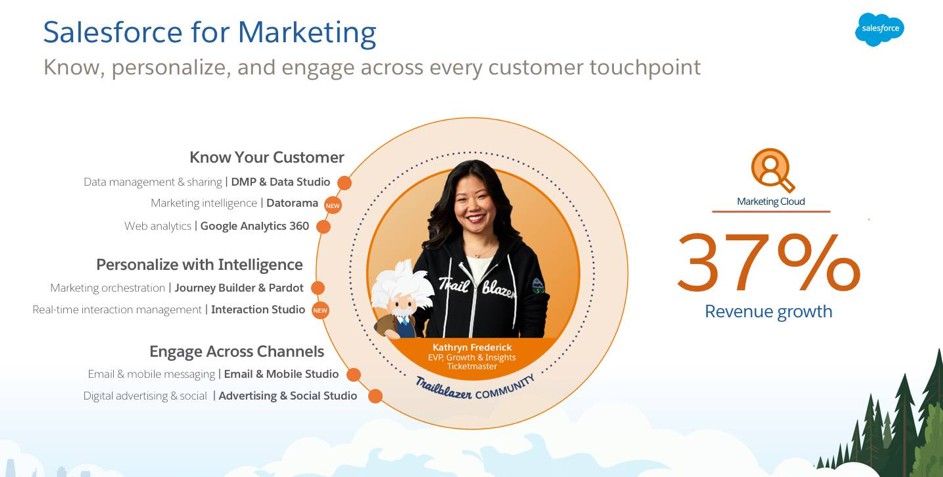 With Marketing Cloud, users can do things like:
Connect known and unknown profiles to gain a unified view of the customer.

Leverage data and Einstein artificial intelligence to make every interaction relevant.

Create two-way, real-time engagement when and where the customer wants.

Measure, report, and optimize on marketing performance, impact, and customer loyalty.
What It Was Like Before Salesforce Marketing Cloud?
Before Salesforce came out with Marketing Cloud in 2012, there were various challenges in digital marketing. Some of the challenges can be seen from list below:
It was difficult to harness the information on customers and audiences from social networks.
The growth of online conversations and metrics required a platform that could manage the huge amount of content being produced.
Conversations between organizations and customers were scattered across various channels.
All the data that was available on a customer was stuck in silos and was not being utilized.
Companies struggled to find return-on-investment across multiple channels.
To solve these challenges, Salesforce came up with the marketing cloud – one platform to integrate all social programs and data.
Why Choose Salesforce Marketing Cloud?
Salesforce Marketing Cloud is one of the market leaders in the marketing cloud domain along with other clouds like Adobe marketing cloud, IBM marketing cloud and Oracle marketing cloud. Salesforce marketing cloud has a total market share of 24%, second only to Adobe marketing cloud. Below is an image from google trends showing the interest in different marketing clouds over time. As you can see, the interest in Salesforce marketing cloud has been increasing rapidly.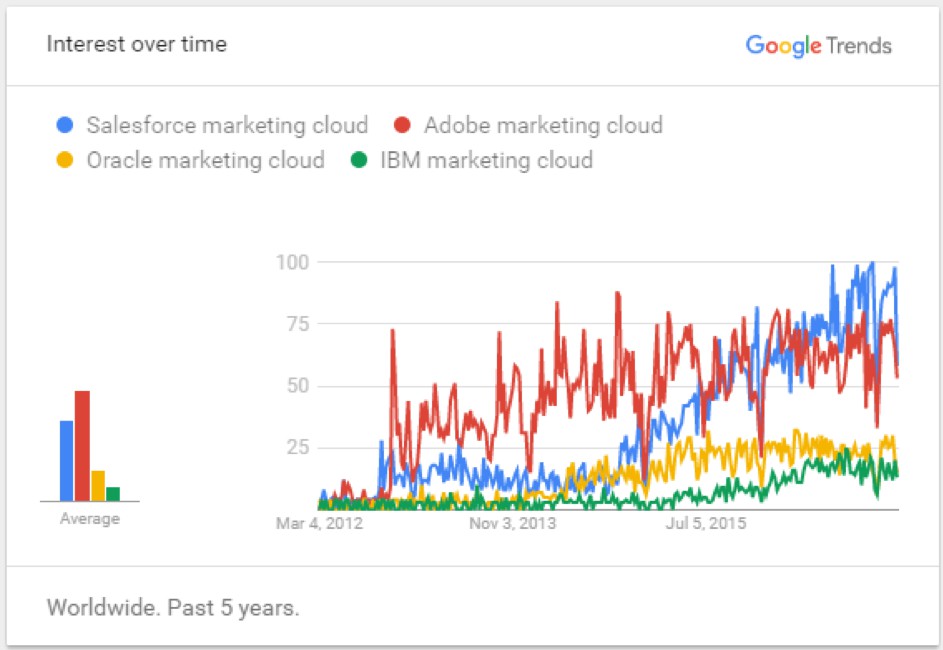 If you are wondering what makes the Salesforce Marketing Cloud stand out, then you should take a look at the benefits given below:
Salesforce marketing cloud provides user with a platform to plan, personalize and optimize customer journey.

User can map customer journeys across multiple channels, devices and customer life- cycle stages all in one software.

Salesforce marketing cloud can be integrated with other software like Salesforce CRM, Salesforce Sales cloud, Workfront and other applications to provide deeper and better insights of customers.
Companies like Aston-Martin, Vodafone, Philips, Western-Union, General Electric etc., who have huge customer base use Salesforce Marketing Cloud to connect with their customers. Businesses that adopt these tools have a dramatic advantage, not just now, but well into the future.
Marketing Cloud Products
Salesforce Marketing Cloud empowers you to know, personalize, and engage across every customer touchpoint. Some of the important products provided by marketing cloud can be seen below.
Audience Studio: Capture data from any source and device, then unify, segment, and activate audiences to create valuable customer experiences.

Data Studio: Expand your reach with a data sharing platform where publishers can share 2nd party data with marketers in a trusted and transparent way.

Datorama: Enable cross-platform marketing intelligence by unifying data sources, visualizing AI-powered insights, and creating actionable reports to drive ROI.

Google Analytics 360: Gain cross-channel insights for seamless customer journeys with Google Analytics 360 + Marketing Cloud

Journey Builder: Deliver cross-channel personalized experiences at every step of the customer lifecycle with campaign management.

Interaction Studio: Visualize, track, and manage customer experiences with real-time interaction management—driving valuable engagement at the right moment.

Email Studio: Use data from every department to build smarter email—from basic marketing campaigns to sophisticated 1-to-1 messages.

Mobile Studio: Send consistent SMS, push, and chat app messages in real-time.

Advertising Studio: Use CRM to securely power 1-to-1 advertising across Google, Facebook, Linkedin, Twitter, Pinterest and Display at scale.

Social Studio: Listen, publish, and engage to create customer advocates. Connect social to marketing, sales, and service in one platform powered by AI.

Is Marketing Cloud Right for Your Operations?
To answer that question, let's ask a different one: Do you need to reach your individual customers in a more personalized way, at scale? If the answer is yes, then Marketing Cloud is not only right for you, but we built it just for you! When customers spend money on your products and services, they enter into a relationship with you. You want to build and cultivate that relationship to drive trust, loyalty, and ultimately increase lifetime customer value. Marketing Cloud can help you build those relationships with your current and prospective customers, users, and subscribers. Whether you're trying to identify new customers or cultivate existing relationships, you can use Marketing Cloud to connect to your customer through email, mobile, social, advertising, and the web—all in one place. Create a complete customer journey with automation and analytics powered by Salesforce Einstein artificial intelligence technology. Read on to find out what it means to seamlessly engage customers across the entire journey by connecting marketing, commerce, service, sales, and communities.
How Marketing Cloud Works with the Rest of the Customer Success Platforms?
Because Salesforce is a single platform, it is uniquely positioned to connect the entire customer experience. But how does that work exactly? Marketing Cloud Connect integrates Marketing Cloud across the Customer Success Platform, giving you the ability to deliver connected customer engagement across your entire business. Here are some examples.
Commerce Cloud: Increase loyalty and retention with behavioral-influenced emails. Set up triggers in Journey Builder for commerce activities like making a purchase or abandoning a cart.
Service Cloud: Open and close service cases or launch a customer into a Journey from a case creation in Service Cloud.
Sales Cloud: Onboard new customers, open new opportunities, and drive product adoption with Journeys triggered by actions in Sales Cloud.
Community Cloud: Encourage participation for unanswered posts, drive engagement and retention, and set up drip campaigns to follow-up on activities in Community Cloud.
As you can see, when you connect Marketing Cloud, you get a complete up-to-date profile of every customer, so you can make smarter marketing decisions. With Marketing Cloud Connect, you can leverage all of your service and sales data, sending messages to prospects and customers with marketing-approved images and content. You can tailor every interaction directly from Marketing Cloud and deliver your message across all channels and devices. Marketing Cloud can listen for customer actions, and when a prospect turns into a customer, Marketing Cloud continues the customer journey. Marketing Cloud Connect makes any journey possible.
References
- Youtube