Salesforce Sales Cloud is designed to support your sales and is one of the most advanced customer relationship management platforms available today. It has marketing and customer support tools for your business-to-business (B2B) and business-to-customer e-commerce (B2C) activities.
What is Salesforce Sales Cloud?
Sales Cloud is part of Salesforce's CRM system. The sales cloud is built specifically for salespeople. In addition to the key components built into the platform for your sales advisors (leads, accounts, customers, contracts, deals, products, prices, offers, etc.), online lead supports, online lead opportunities and many more to improve your sales-oriented operations. has a unique feature.
Salesforce Sales Cloud is designed for you to manage the process from the beginning to the end of sales operations in the most effective way, and it has a structure that directly targets the company's revenue growth.

How Can You Increase Your Sales with Salesforce Sales Cloud?
If you want smart solutions in your sales and want to take your existing business to the next level, Salesforce will be the answer to all your searches. Salesforce Sales Cloud is designed to support your sales and is one of the most advanced customer relationship management platforms available today. It has marketing and customer support tools for your business-to-business (B2B) and business-to-consumer e-commerce (B2C) activities.
If you have encountered the following problems;
If customers' information is mixed,
If there has been loss of critical information or data,
If no plans are already made for rapid scaling,
If getting a report has become an annoying or even torture process,
If your sales process is currently stuck and not progressing etc.,
there is no need to despair, because Salesforce Sales Cloud is a platform that helps your sales operations, developed as a solution to the above-mentioned and similar problems. Salesforce Sales Cloud has been tailored by professional teams and its built-in features have been developed to meet the needs of sales consultants.
What are The Main Features of Salesforce Sales Cloud?
The key features of the Salesforce Sales Cloud are as follows.
Customer Communication Management: Provides easy access to all customer information, past contact records, negotiations, important numbers and e-mails.
Opportunity Management: Provides fast quotation creation and modification according to current scenarios of sales negotiations and transactions.
Salesforce Engage: Notifies the user in created personal campaigns and in cases such as lead activation.
Lead Management: Ensures that leads are associated with the right people, routes, and campaigns.
Reports and Panels: Helps create new panels and effective reporting so you can make quicker decisions.
Sales Forecasts: There are detailed reports of sales forecasts for the following periods, based on real-time data.
Workflow and Approvals: Provides the user with an easy-to-use visual interface to simplify and automate approval processes.
Regional Management: It provides the creation of different regional models and the application of different rules in these regions.
File Sync and Sharing: Makes it easy to search, share and find files.
Sales Performance Management: It is used to create performance summaries by establishing a connection between sales performance, targets and current data.
Partner Management: Allows you to easily share the sales performance and the details of the operation with your partners. It also facilitates training, sales support, recruitment and onboarding processes in partners.
How Do You Know If Salesforce Is Right For You?
Although you have an idea of Salesforce Sales Cloud, can't figure out if it is suitable for your company? If you're seeing any of the classic signs below that indicate you need a much better way to track your customers, then you need Salesforce's Sales Cloud.
If your customer information is scattered; If you have customer information in sticky notes, excel spreadsheets, and your email marketing system, it can make it really hard to see the whole picture. Growth is hindered when you're not ready for customer conversations or can't keep up with your business.
When customer data is in different locations or just in the minds of agents, you could be losing critical data and collaborating. Worse still, when agents leave the company, your customer data is separated too!
If you do not have a rapid scaling plan; When demand increases or your team grows rapidly, scaling your existing sales processes may not be enough. As your business grows, it needs to have systems that scale quickly.
If you have questions about how effective your sales process is, but do not have the tools to find the answers, you need a system that will speed up your reporting processes and make them more efficient.
How to Upgrade Your Business with Sales Cloud?
Sales Cloud automatically empowers your leads and directs them to you. Sales Cloud has solved this problem in the best way by sorting your leads and directing them to your best possible representative, helping you increase your sales. That's why Sales Cloud is the world's number one sales platform.
Sales Cloud manages your pipeline from lead to closing. As a sales leader, your representatives are responsible for monitoring sales activities. From the moment they learn about a lead until they close the deal, reps can save everything important to Sales Cloud. Sales Cloud makes it easy to track every call, email, and interaction and engage task team members.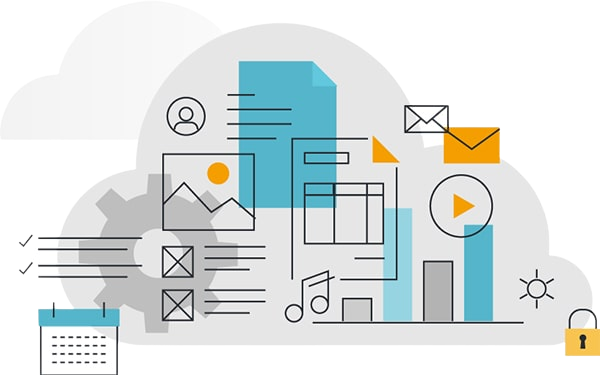 "We had a fundamental belief that doing it right the first time would be easier than having to go back and fix it." — Steve Jobs
With Sales Cloud, you can see the status of your sales team in real time. In fact, you can easily track changes using the Pipeline Inspection tool; this allows you to quickly see which deals will impact sales forecasts. Plus, by seeing business-wide data, you quickly make adjustments to meet and exceed your goals. With dashboards, you can visualize your most important reports and share them with everyone.
What are the Advantages of the Salesforce Platform?
Salesforce is designed to bring your sales and service organizations together with Service Cloud and Sales Cloud. They are built on the same platform and offer a 360-degree view of every customer in sales, service and the entire organization. This complete understanding means happy customers and more dollars. Service teams are empowered to upsell and cross-sell to existing customers. Sales teams can use service insights to better understand their customers' background and current needs and sell more effectively.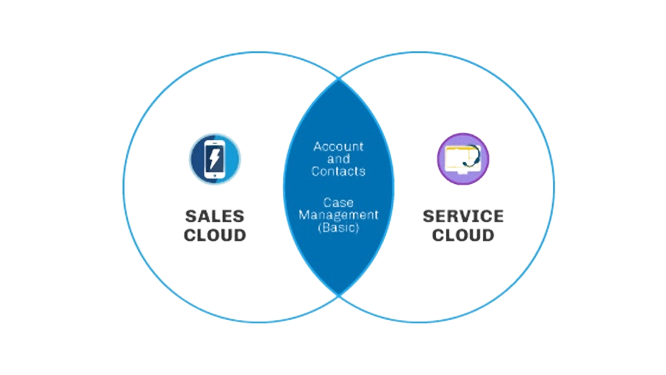 The advantages of using Service Cloud and Sales Cloud on a single platform are listed below.
When service teams engage with customers, they gain deeper insight into the business problems they're trying to solve and what's and isn't working in your product. Sales reps can then use this information and the customer's history to better meet their needs with the right solution.
If a support representative is meeting with a customer and identifies a cross-sell or upsell opportunity, he or she can seamlessly pass that lead and a wealth of information about the customer to the sales team.
When your sales reps work weeks (or months!) to close a deal with a customer, they want that positive experience to continue the customer's entire journey. It's just good business sense. With Salesforce, you can be sure that all your customers have the best experience. This means providing proactive service after the sale is made. Your customers no longer have to disclose their entire history or experience to service representatives. Agents have a complete story with rich customer data and insights to anticipate a customer's needs. This type of quality experience leads to much smoother conversations when sales reps engage with your customers for renewals or additional sales opportunities.
Conclusion
With Salesforce, you can see the benefits of working with your sales and service teams as a whole. Salesforce is a platform that creates seamless integration, a complete customer view, and effortless collaboration. With the Salesforce Platform, you can stop worrying about losing your customers and focus on meeting their future needs.
Salesforce releases new features three times a year, and this innovation integrates seamlessly into your CRM. It's also fully customizable so you can tailor it to your business processes. And when all that collaboration leads to explosive growth, Salesforce grows with you.