Salesforce's technology enables businesses of all sizes to provide customer and employee success from any location. Customers, partners, and technology professionals who comprise the Salesforce ecosystem are exposed to countless opportunities for growth.
A recent IDC report predicts that by 2026, the Salesforce ecosystem will generate 9.3 million new jobs and $1.6 trillion in new business revenues worldwide. This expansion is driven by Trailblazers — the learners and innovators who use Salesforce to build successful careers, businesses, and communities around the globe.
What is a Trailblazer?
Trailblazers are Salesforce's true beating heart. And we've made it our mission to pave the way for anyone to access career opportunities and to equip them with the resources they need to succeed.
A person who is a pioneer, an innovator, a lifelong learner, and a mover and shaker.
A leader who paves the way for followers.
Most importantly, a person who works to improve the lives of others.
A Trailblazer is any Salesforce user who desires to innovate and achieve success. Retraining is essential whether you are just beginning your career or retraining for a new career. Anyone can be assisted, whether they are a seasoned leader assisting teams with digital transformation or an entrepreneur developing business applications. Everyone is encouraged to explore the truly boundless possibilities.
Who exactly are Trailblazers?
Trailblazers come from all walks of life and achieve success in a wide range of roles.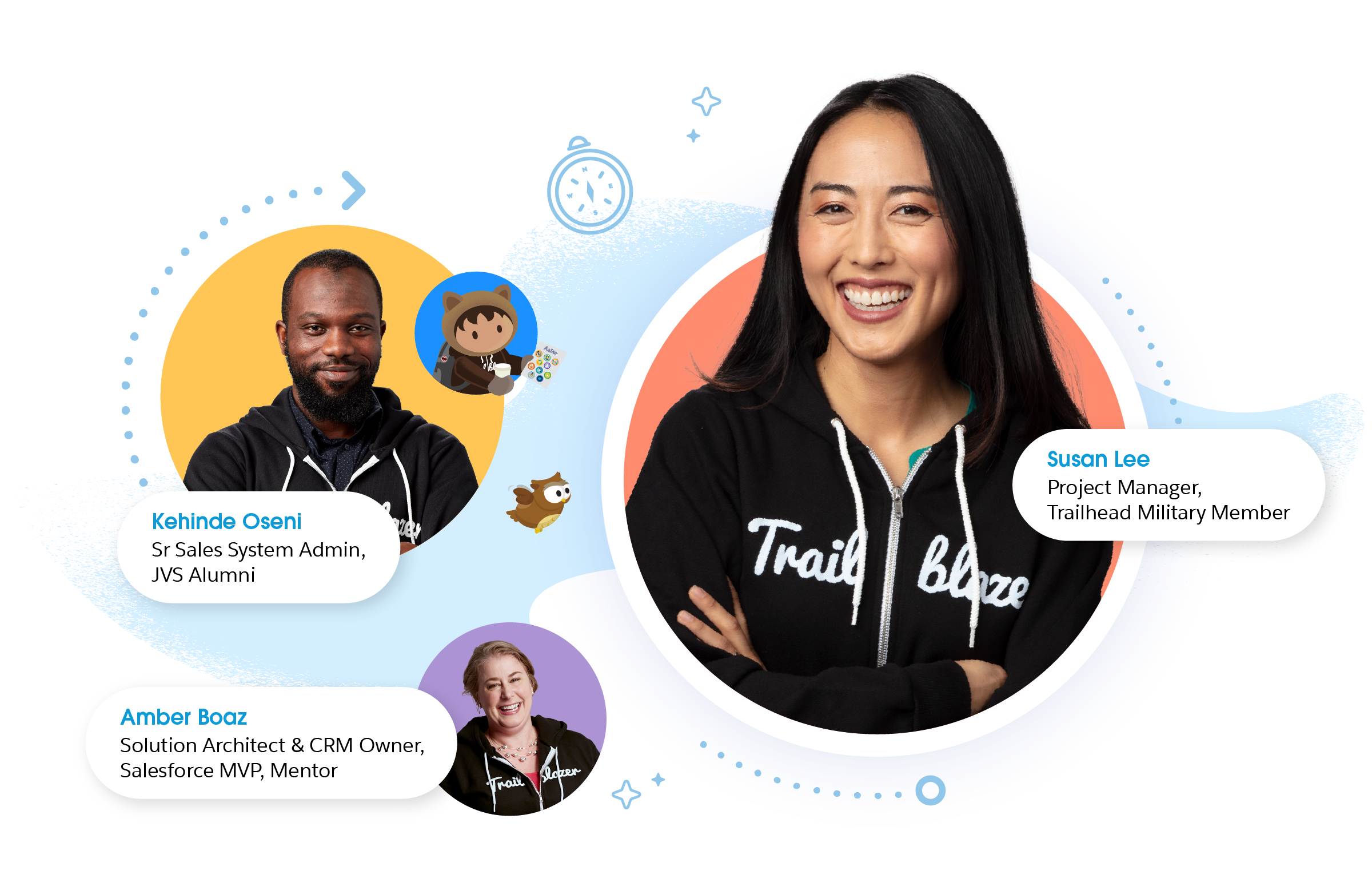 Here are a few additional Trailblazer Stories that illustrate the beautiful diversity of the community, the paths to success, and the opportunities to give back.
Analyst of Business Systems, Brian Owens
In January 2020, Brian and his fiancée had a pivotal conversation about their future. After deciding to pursue a tech career, Brian immersed himself in Trailhead, Salesforce's free online learning platform.
Brian earned his Salesforce Admin Certification after many hours of studying, building apps in the Trailhead Playground, and networking with the Trailblazer Community.
In April of 2020, Brian obtained his first position as a Salesforce Business Analyst. He co-hosts certification study groups and spreads the word about Salesforce to Historically Black Colleges and Universities in an effort to help others follow in his footsteps (HBCUs).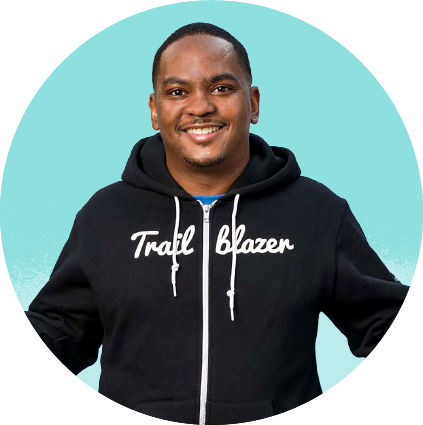 "To me, being a Trailblazer means not having all the answers, but having the confidence to learn new skills and grow."
Brian Owens
Business Systems Analyst. Atlanta, Georgia
Erika McEvilly, Developer Junior
Erika gave up a successful career in business development to have children. She decided to pursue flexible work after a few years and discovered Salesforce through the UK Trailblazer Workforce Partner Supermums.
During her job search, Erika was advised to pursue a career as a Salesforce Developer. During the pandemic, she learned to code with the assistance of RAD Women Code and Trailblazers from around the world.
Today, Erika serves as co-leader of the London Salesforce Developer Community Group while working as a junior developer for a major financial institution.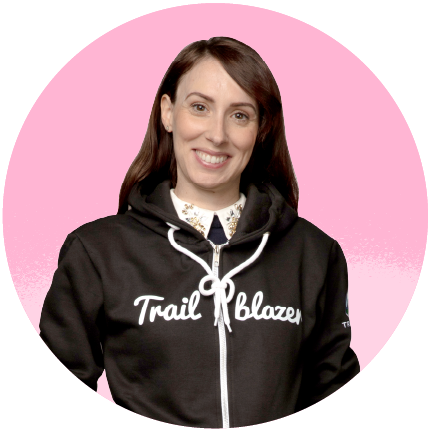 "Being a Trailblazer is all about collaboration. Not letting difficulties stop you—but turning them into opportunities."
Erika McEvilly
Junior Developer. London, England
Tracy Lim, Retail Head of CX
Tracy began her career in the banking industry as a risk analyst, but quickly realized she belonged in marketing. After honing her listening skills in B2B sales, Tracy's leadership gave her the opportunity to break into the field.
She excelled at the combination of art and science, which led to opportunities in the banking industry to lead digital transformation and customer experience.
Tracy discovered the power of peer connections and a passion for assisting others after attending Dreamforce. Tracy imparts her passion for technology by incorporating Trailhead learning and friendly competitions into her team's routine. In addition, she is the leader of the Salesforce Marketer Group in Manila, Philippines.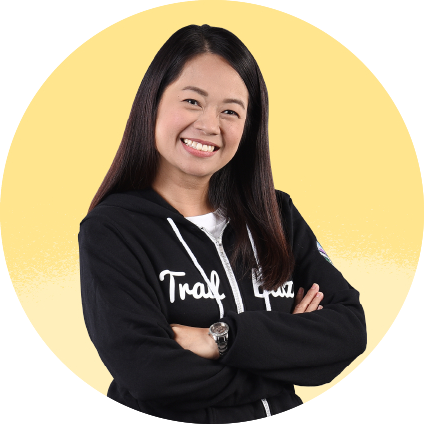 "⁠Trailblazers reach out to share what they've learned—to inspire and help others to achieve their dreams."
Tracy Lim
Head of CX for Retail. Manila, Philippines
What's the story behind the Trailblazer hoodie?
Creation of the iconic black hoodie is central to the origin story of the Trailblazers. In 2015, the Trailblazer spirit was thriving in Trailblazer community, and they wanted to provide them with a way to express their identity and spirit. Therefore, the first black hoodie is designed with "Trailblazer" written in script across the front.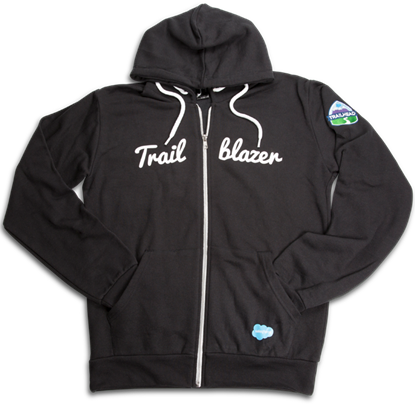 The iconic Trailblazer black hoodie
Initially, Trailblazers earned hoodies by attending Salesforce events and gaining knowledge. A Trailblazer t-shirt is now available for purchase on the Salesforce Store.
As a token of our appreciation, the golden Trailblazer hoodies are give to Trailblazers who share their stories of doing well and doing good at Salesforce events around the world.
How do you become a Trailblazer?
Salesforce allows anyone to be a Trailblazer. Here are several ways to begin your journey:
Connect with Trailblazers from Anywhere: Join the Trailblazer Community to collaborate with Trailblazers online, and choose from over 1,300 community-led local and virtual Trailblazer Community Groups in 90+ countries.
Develop your Trailhead expertise: Utilize Trailhead, our free online learning platform, to hone your tech and business skills.