Facebook is among the most popular social apps. Similarly, Salesforce holds a prominent position as the leading CRM platform in the world. This is precisely why integration between Salesforce and Facebook is advantageous for the majority of businesses today.
Facebook has approximately 2.96 billion monthly active users as of 2022. From connecting with friends and family to engaging local and global customers, its user base is a tremendous asset for most businesses. By distributing digital catalogs, ads that link to Messenger, auto-replies, and more, the majority of businesses now use Facebook to communicate with potential and existing customers.
Since Salesforce is such a potent CRM tool, it will be advantageous for businesses to incorporate Facebook customer information into their Salesforce CRM strategy.
Why should you integrate Facebook and Salesforce?
Virtually everyone has at least one social media app on their mobile device. Integration between Salesforce and Facebook is necessary to reach more customers and enable them to communicate with you.
The Facebook Salesforce integration facilitates:
Reduce sales cycles and close deals more quickly with instant messaging

Increase conversions from Facebook-preferring customers

Utilize Facebook Lead Ads, click-to-Messenger ads, comment auto-replies, and other tools to bolster the customer database on Salesforce CRM.

Streamline customer experience across multiple channels

Increase productivity with a bidirectional sync of Salesforce contacts, leads, and opportunities.

Improve the quality of customer service with Salesforce's lead stage next to the chat box.
How to integrate Salesforce with other applications?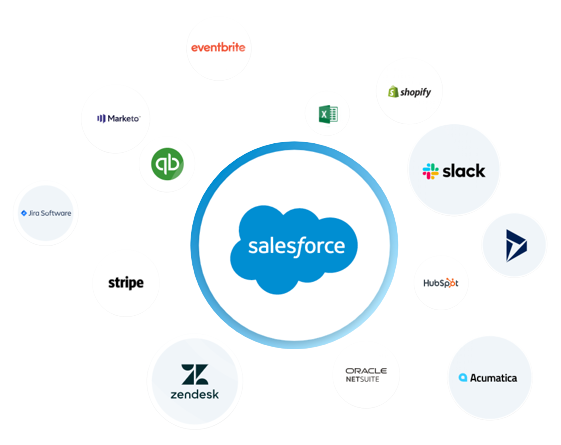 In addition to Facebook, there are additional Salesforce integrations that can provide benefits. Your Salesforce account can be integrated with popular messaging apps such as WhatsApp, Telegram, Instagram DM, Viber, LINE, WeChat, and live chat on your website to streamline your omnichannel strategy. You can integrate various messaging channels and e-commerce stores by contacting us.