Salesforce integration services, including Instagram Salesforce integration, are designed to provide Salesforce users with a streamlined and cost-effective Instagram marketing workflow. Due to the fact that 90% of Instagram users follow at least one business, it is an ideal platform for brands to increase brand awareness and generate leads and opportunities.
What is Instagram - Salesforce integration?
To simplify social CRM management, you must utilize an Instagram Salesforce integration solution to connect the Salesforce platform to your company's Instagram account. Numerous Salesforce integration partners offer the following Salesforce integration services to enable the aforementioned capabilities:
Automatic filtering, mapping, and exporting of Salesforce contacts into Instagram Matching Salesforce account administrators with Instagram contact managers

synchronization of data between Instagram ads and Salesforce

Effectively managing sales pipelines by engaging leads from Salesforce campaigns on Instagram

Automatically updating and syncing all contacts, leads, and opportunities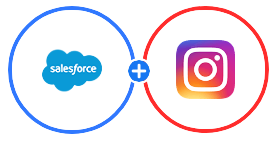 Why should you use Instagram - Salesforce integration?
72% of Instagram users base their purchasing decisions on the content they see on the platform. This means that a substantial number of customers can be sourced from Instagram and managed through your Salesforce CRM account.
Although Salesforce permits you to link your Instagram account to its Social Studio on Marketing Cloud, its capabilities are limited. You can only manage, schedule, and measure the performance of posts, but there are no tools for businesses to implement automated social messaging.
Using Salesforce integration software, you can enhance the customer experience and boost the sales representatives' efficiency.