This spring, Salesforce will offer new Commerce Cloud solutions that will enable automakers and dealers to reimagine online sales. Salesforce will demonstrate this week at the Consumer Electronics Show (CES) how its Automotive Cloud is powering the next generation of car purchasing, driving, and servicing.
Nearly 75% of all customer interactions during the car-buying process now occur through digital channels, and 88% of customers believe that the experience a company provides is equally as important as the products or services it offers. As sales of digitally-powered automobiles increase, so do the connectedness of vehicles. By the end of the decade, connected cars — cars that can communicate and share data with a variety of systems both inside and outside the vehicle — will account for approximately 95% of all new vehicles sold worldwide, generating an estimated 100 petabytes of data per month that can be used to power connected experiences.
However, the majority of automotive organizations lack the necessary people, processes, and technology to harness this data and deliver connected experiences throughout the entire car-buying and ownership journey.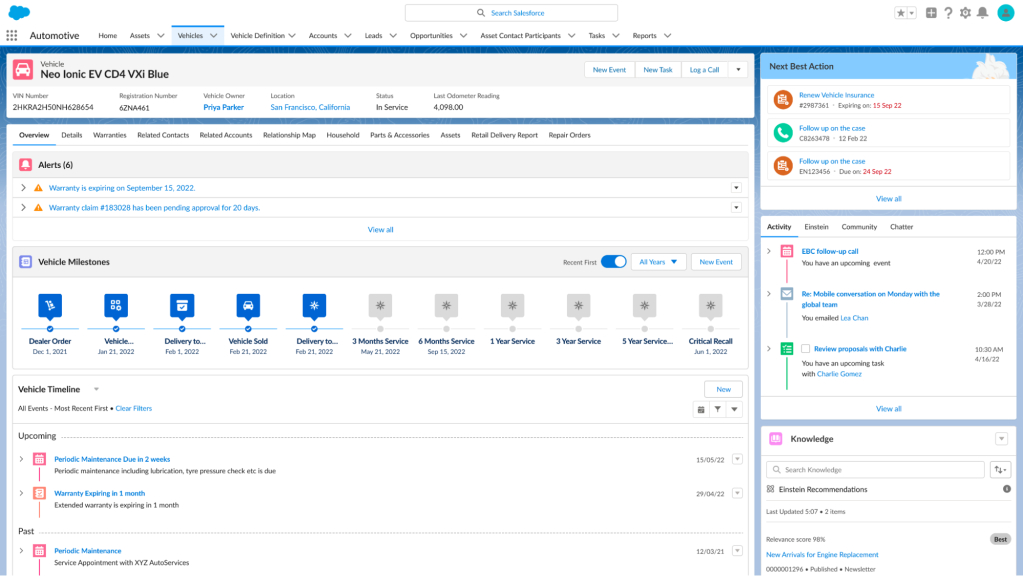 Salesforce Will Deliver The Future of Connected Vehicles
Automakers can deliver immersive in-car experiences powered by real-time personalization using Automotive Cloud. Automakers can create truly connected experiences with Salesforce by combining vehicle and driver data to orchestrate experiences across marketing, sales, commerce, and service at scale. And with Salesforce Genie Customer Data Cloud, automotive companies can unify their customer and vehicle data across all channels and interactions, including customer inquiries, service requests, and vehicle data, into a single, real-time customer profile.
Automakers can bring these next-generation in-car experiences to life with Automotive Cloud by creating a personalized, automated flow that can offer a customer a trial of their new park assist feature before the customer attempts to park their car – allowing automakers to target the right customer at the right time.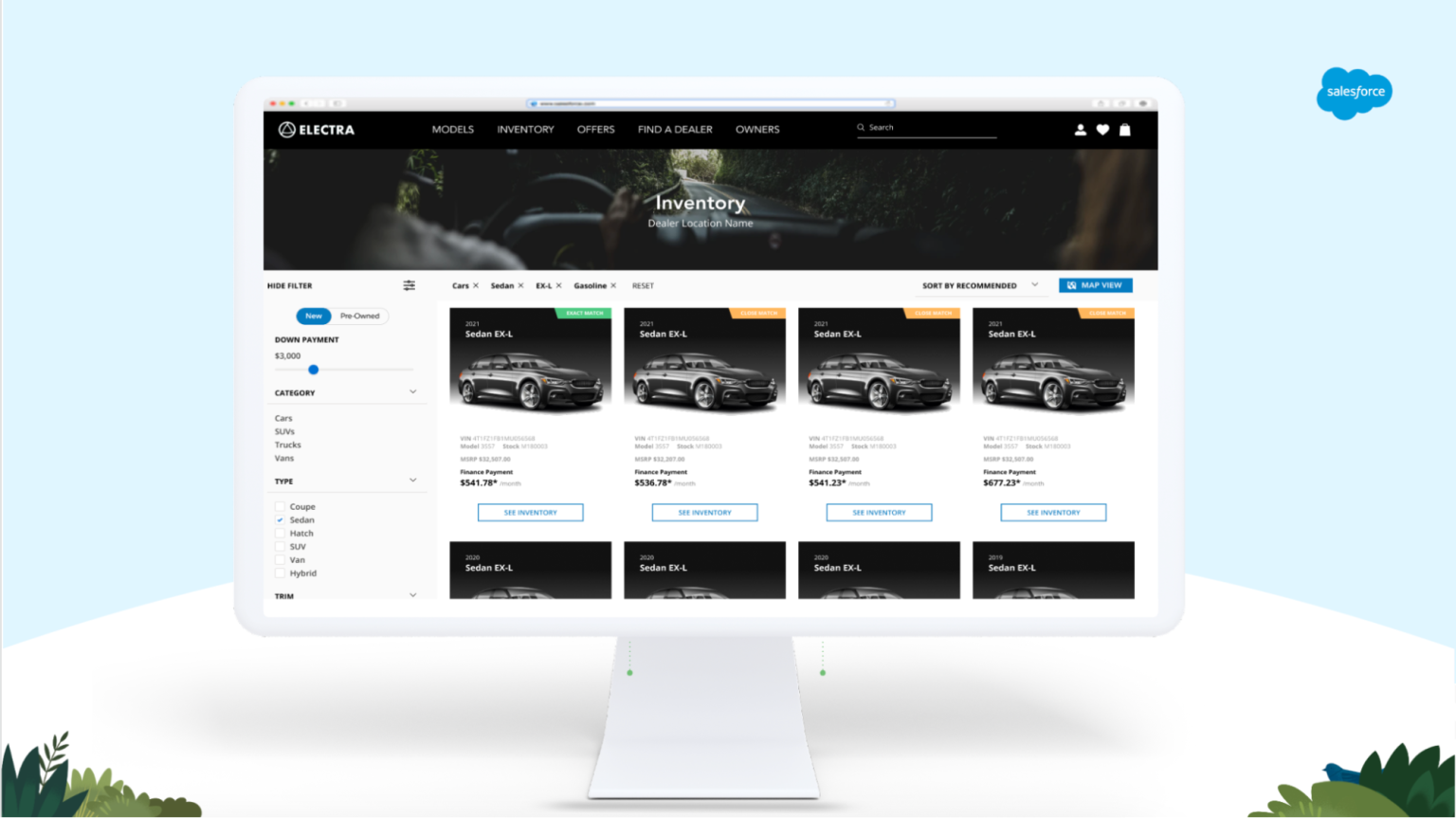 Commerce Cloud provides B2C shoppers and B2B purchasing with immersive, personalized buying experiences based on current location, product feature sets, inventory availability, and more.
Automotive Cloud and Commerce Cloud Will Redefine The Car-Buying Process.
According to the Trends in Automotive Report by Salesforce, only 26% of Original Equipment Manufacturers (OEMs) and 23% of retailers believe their businesses have successfully adapted to online sales. Less than one-fifth of automakers believe that their digital storefronts are engaging, mobile-friendly, and provide accurate inventory data.
With Salesforce's Automotive Cloud and Commerce Cloud, automobile manufacturers can reimagine the digital car-buying experience by:
Digitizing the car-buying process to create engaging and immersive AI-powered experiences for consumers and dealers, delivered in a brand-appropriate manner. Commerce Cloud will utilize new merchandising tools to increase site traffic, assist customers in locating dealerships, configure product sets, improve parts-search, and extend commerce globally in 80+ languages and currencies.
Delivering omni-channel experiences that are interconnected across commerce, marketing, and customer service. To expedite fulfillment, Order Management enables customer service agents to order parts and accessories on the customer's behalf.
Extending commerce capabilities and enhancing immersive experiences with Salesforce partner innovations. Through integrations with independent software vendor (ISV) partners such as ThreeKit Visual Commerce on AppExchange, automakers can now enable customers to visually customize their vehicle's model, color, trim, wheels, and other components using interactive 3D, virtual photography, and augmented reality (AR).