By consolidating marketing technology tools onto a single platform, Salesforce has introduced a new Marketing Effectiveness Bundle to assist businesses in surpassing customer expectations, reducing costs, and fostering efficient growth. Customers using Salesforce report an estimated 31% average increase in customer engagement and a 27% average decrease in customer acquisition costs.
Due to tighter budgets and staffing shortages caused by economic uncertainty, marketers are under pressure to increase efficiency, boost sales, and reduce expenses while continuing to meet customers' rising digital-first expectations. To succeed now, marketing teams must leverage automation, artificial intelligence, and real-time data, and personalize every customer interaction.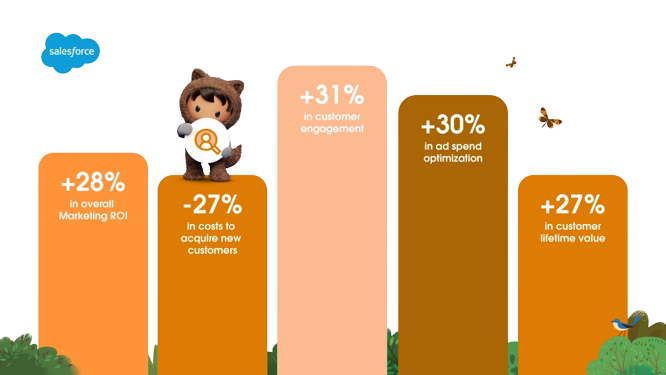 With the Marketing Effectiveness Bundle, businesses can improve the performance of their campaigns, increase customer value and return on investment through personalization, and stay within budget. The package includes:
Customer Data Platform powered by Genie to consolidate all customer data into a single source of truth, create intelligent audiences more quickly, and act on real-time data and insights.
Marketing Cloud Personalization to deliver automated hyper-relevant moments with real-time recommendations, offers, and customer-specific experiences.
Marketing Cloud Engagement for connecting with customers across all channels, on their terms, and optimizing marketing performance and expenditures with AI.
"Companies everywhere are looking to their marketing teams to meet customers' digital-first expectations and do more with less"
Lidiane Jones, EVP & GM, Digital Experiences at Salesforce