Your company probably already automates some customer interactions. But you are likely only doing so with a subset of the customer data you possess. This prevents you from realizing the true value of automation at a time when it is essential for helping us accomplish more with fewer resources.
Consider a process that begins with a customer interaction on your website and concludes with a complex supply chain request, such as placing an order with your supplier for more inventory to meet the needs of the customer. It has been extremely difficult to automate these types of experiences from beginning to end, eliminating every manual step of the process.
Now, you can automate the entirety of your organization, delivering a new level of automation for the business and enhancing customer and employee experiences along the way.
In September 2022, Salesforce introduced Genie Customer Data Cloud, now powered by Tableau, to assist businesses in better understanding customer data and delivering actionable insights in real-time and at scale. Genie Customer Data Cloud processes an average of more than 100 billion customer records per day across the entirety of Customer 360.
This is a game-changer for MuleSoft clients, as the Genie Customer Data Cloud now enables all businesses to access real-time data across any modern or legacy system.
Using real-time data from campaigns, loyalty rewards, and point-of-sale transactions, MuleSoft retail clients can automate and personalize marketing and in-store experiences for customers. Similarly, patient care managers can prioritize high-risk patients at the appropriate time. And with more comprehensive health data, healthcare marketers can segment patient and member populations and create personalized care journeys at scale.
Why does Genie Customer Data Cloud matter?

In the current economic climate, you must focus on your customers, and it all begins with data. Massive amounts of data are siloed, fragmented, and difficult to manage for businesses. In the past, businesses were required to construct intricate data pipelines and platforms, which led to data duplication, stale data, and compromised decision making.
To provide relevant, individualized, and compelling moments-that-matter, businesses must integrate digital and real-world customer interactions seamlessly. However, their efforts to drive real-time engagement are frequently hampered by the lack of a single source of customer truth.
On average, businesses use 980 applications to run their operations. These applications generate data silos, which may result in hundreds of versions of "the truth" regarding a single customer. As the amount of data created and processed each year continues to increase exponentially, this difficulty will only intensify.
Genie Customer Data Cloud assists in overcoming these obstacles by processing and harmonizing massive amounts of real-time data from third-party systems and Salesforce into a customer graph. It integrates data from all channels and streams, including mobile, web, APIs, and proprietary data lakes, via pre-installed connectors. In addition to the pre-installed connectors, MuleSoft serves as the real-time data ingress layer for virtually any system, anywhere.
Why is MuleSoft so essential to the Genie Customer Data Cloud?
MuleSoft is integral to the Genie Customer Data Cloud as the ingress and action layer. As previously stated, MuleSoft can assist Genie in processing real-time data from any system, application, or device into the Genie Customer Data Cloud. In addition, MuleSoft is natively integrated within Salesforce Flow, allowing it to serve as both the action and automation layer. This enables the seamless automation of your enterprise, augmented by the power of customer graphs and AI-driven insights. Globally, business leaders are intent on achieving immediate success by establishing more valuable and cost-effective connections with their customers. Automation is a top priority for nearly all of them, with 91% of businesses reporting an increase in demand over the past two years, as we all figure out how to do more with less. Today's and tomorrow's business success will be determined by the investments made today.
The magical aspect of this experience is that data and insights from the Genie Customer Data Cloud are as easily addressable as any other object on the Salesforce Platform; therefore, when combined with Flow and MuleSoft, we can deliver sophisticated end-to-end and intelligent automation across the Customer 360 and all other enterprise systems.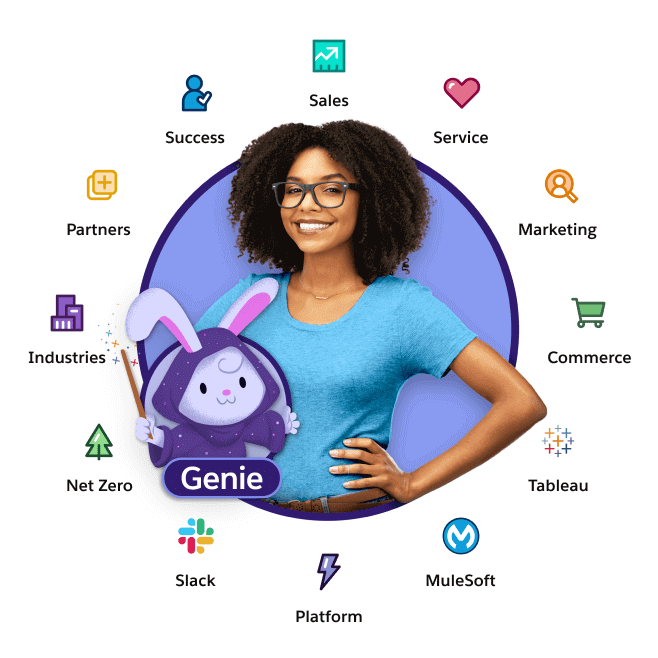 What aspects of Genie Customer Data Cloud and MuleSoft most excite you?
Our customers rely on MuleSoft to connect all of their ecosystem's systems and data using a resilient and scalable composable architecture. As these application networks have matured, our customers can now compose and automate entirely new workflows and experiences using the same connectivity fabric.
Through this real-time unified customer graph, our customers can gain a deeper understanding of their customers with Genie Customer Data Cloud. This enables us to incorporate this understanding into each orchestration of their composable enterprise, thereby making them more intelligent and individualized. This enables our customers to provide their customers with the types of seamless and automated experiences they desire, and to deliver on the promise of an automated enterprise as a whole. I cannot wait to see what our customers do with this next.
How will MuleSoft and Genie Customer Data Cloud benefit society as a whole?
Since 1999, Salesforce has supported the nonprofit sector as part of its 1-1-1 model, with over 39,000 organizations using our donated software. Salesforce's platform is utilized by a large number of organizations to drive their environmental, social, and governance (ESG) initiatives.
Everything described previously applies here, including the sector's ability to increase its overall productivity through data-driven automation. By analyzing real-time data, food banks can determine the locations of those in greatest need, as well as which items are in the shortest supply. Non-profit organizations can collect significantly more data, enabling them to scale their efforts to strengthen communities. In the renewable energy sector, energy companies can work with their customers to collect more granular energy usage data from devices in the home, allowing them to make real-time recommendations on how to optimize energy usage and reduce grid strain.
With the power of Genie Customer Data Cloud and MuleSoft, Salesforce is thrilled to provide these incredible organizations with the immense opportunity of real-time data and automation. These organizations are helping communities and the environment.