Customer relationship management, or CRM, is a software program that enables business owners to conveniently keep track of all correspondence and develop relationships with their prospects and customers. The several spreadsheets, databases, and apps that many organizations slap together to maintain customer information are replaced by a CRM. The end effect was improved time management, organization, and client satisfaction.
CRMs, or client management platforms, link all of your sales leads' and customers' data in one location. A CRM compiles all correspondence—including form submissions, phone conversations, emails, texts, and meetings—as well as all paperwork, quotes, purchases, and activities related to each lead and client. To clinch a transaction or provide exceptional service, your entire team can have access to those facts at the appropriate time.
What does a CRM System do?
The primary purpose of any customer information system, including CRM software, is contact management. A CRM's main function is to organize and maintain all data for all types of contacts, from leads to business partners.
How Can CRM Simplify Sales and Marketing?
Without creating massive teams or going overboard with advertising, a CRM software boosts your sales and marketing. You can build a sales and marketing engine that elevates sales to a new level by integrating your CRM with sales and marketing automation.
Sales
Sales CRM software improves visibility, priority, and follow-up, streamlining the entire sales process.
1) Greater Visibility
A CRM gives your sales staff the visibility they require to work at their best. If the account owner changes, having all lead and customer data in one location makes it simple for coworkers to switch over because everything about a person or business is recorded and available.
As a sales representative, you can see exactly what a lead has done, allowing you to tailor your conversation and motivate the right course of action. For instance, you notice that a lead has looked at your case studies and overview video. You can nudge them to sign up for a webinar or consultation when you chat with them if you want to learn more.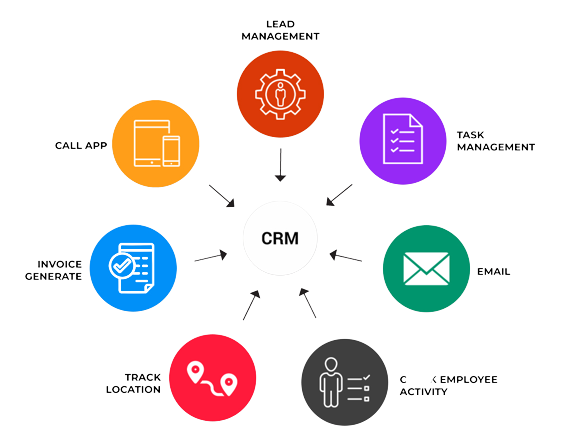 2) Clarity of objectives
A CRM's lead scoring feature, which determines a lead's interest in your product or service, aids the sales team in prioritizing their outreach efforts. The tasks assigned to the sales team's leads are prioritized according to their lead scores.
Customer outreach can also be given priority in your CRM. Records with upcoming contract renewal dates and clients who might be considering a new product can be tagged for follow-up by the sales team.
3)Improved Follow-Up
A CRM enables amazing follow-up (and more sales). You may stop managing sticky notes on your desk or copying and pasting the identical email to every new lead by automated follow-up with prospects and clients. Your system starts follow-up at the appropriate times, establishing a consistent customer experience and increasing the number of leads that become customers.
Marketing
CRM in marketing frequently changes the game since it provides strong insights, options for personalization, and opportunities for testing that eventually enhance sales.
1) Insights
It is possible to examine trends and discover insights that boost profitability when data is consolidated in a CRM. For instance, a company can determine what traits are shared by their ideal clients who have the highest lifetime value. This makes it possible for you to spend your advertising money more effectively and avoid having it go to leads who are probably not interested in your goods or services.
Your data insights might also aid in boosting your revenue. For instance, you can make packages or bundles to boost sales if you find typical buying combinations. Your analytics can also tell you when clients are most likely to make another purchase. You can schedule follow-ups and offers to coincide with the date of the expected repurchase.
2) Segmentation/Personalization
Segmentation makes it possible to send the appropriate message to the appropriate person at the appropriate time. You can send emails and SMS messages based on a customer's recent actions when your CRM is integrated with a sales and marketing automation platform.
Let's imagine a lead who hasn't interacted with you in a while just clicked a link in an email you sent them alerting them to a special offer. You might wish to mark the lead as "re-engaged," send them a follow-up email with an engaging customer narrative, and assign a sales representative the duty of calling them.
3) Testing for Improvement
The secret to enhancing your marketing is testing. A powerful marketing CRM enables you to test just about anything you can think of, including various promotions, SMS messages, advertisements, frequency of calls to leads, etc. Data from testing shows which choice is most successful in generating the highest level of profitability, rather than relying solely on intuition.