Introduction
Service Cloud can "listen", "reply" to customers on various social platforms and automatically forward cases to the appropriate agent. Social customer service is integrated with the Salesforce Customer Success Platform, which allows the social team to gather a comprehensive picture of the customer to report responses.
Service Cloud for applications makes it possible to embed customer support software into applications. In-app mobile support may include live agent video chat, screen sharing, and screen guided assistance. The software is also integrated with the Salesforce Community Cloud, providing more communication channels for agents and customers.
According to Salesforce, Service Cloud is the world's premier customer service platform.
What is Salesforce Service Cloud?
A long time ago, customer service used to call and try to speak to a representative to fix a problem. Since then, companies have invested in telephone exchange systems, customer portal solutions and outsourced call centers. While all these investments have provided customers with alternative means of communication, they have also made it more difficult to find answers. Customers are now giving up on this service model. They can talk about many companies in discussion forums and on social networks such as Twitter and Facebook. Customer service also sometimes has a hard time answering the confusing questions customers ask. This is where Service Cloud, a subsidiary of Salesforce, comes into play.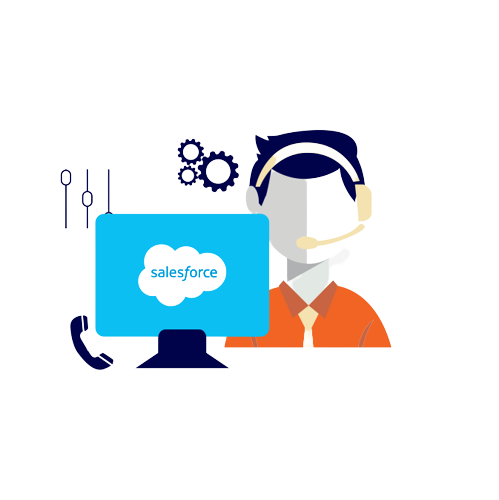 Salesforce Service Cloud creates a solution that will fill the gap between the call center, website and social networks, and close customer complaints faster by increasing bilateral communication. As customers' expectations for the services they receive from companies increase, the number of people using Service Cloud is also increasing. Salesforce Service Cloud emerges as the perfect solution to turn every situation into long-term and healthy customer relations with customers. From the call center to the social media, from the website to the stores, the key to efficient, quality and customer satisfaction-oriented service at every point of contact with the customer becomes the Service Cloud.
Customers want faster and higher quality service anytime, anywhere in the channels they prefer. With Service Cloud, you can offer your customers the service they want, surprise them and make your team work more efficiently. Service Cloud is an environment where both the support team can access information and the customers can find solutions to their problems through the portal, with the knowledge base feature it offers so that you can quickly respond to your customers' questions. It has become a preferred platform as it is very easy to use and can be customized. In this way, you do not need to make hardware and software investments, which are very costly.
When you sign up for Salesforce, you are given a choice of two modules, Sales Cloud and Service Cloud.
With Service Cloud, users often focus more on service and cases. While Service Cloud helps companies selling services and/or products, Sales Cloud is more helpful for companies that focus on leads, opportunities and sales. There is a ton of overlap between these Salesforce cloud modules when it comes to Sales Cloud and Service Cloud. You can learn about this overlap by reading the rest of the blog.
What Can You Do With Salesforce Service Cloud?
Salesforce Service Cloud enables your customer service team to resolve cases faster, automate processes, and increase team productivity with service analytics. Increase the productivity of your customer service teams with automated workflows. It includes built-in tools for your asset and order management.
Increases the performance of call center teams with cloud-based telephony and AI-powered productivity tools. It allows your business to easily set up a self-service help center for its customers with easy-to-use systems for scheduling appointments, checking account balances and paying bills.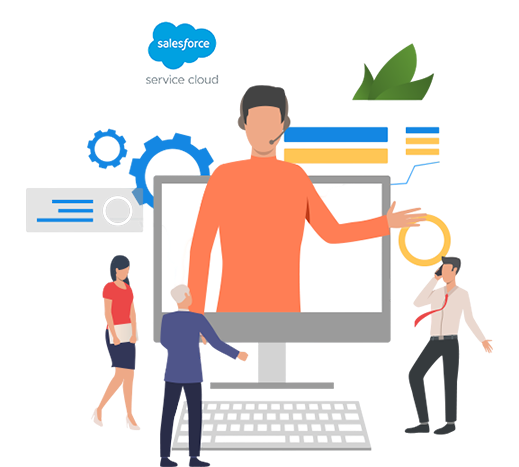 It allows customers to reach you through multiple digital channels such as mobile messaging, AI-powered live chat, social media and email. It integrates customer inquiries from all channels into a single ticketing system that is easy for your customer service team to follow.
Service Cloud comes with a Field Service. The solution that increases the efficiency of your field representatives and enriches their services with remote support, artificial intelligence-supported on-site technical support and mobile integration.
What are the Main features and Benefits of Service Cloud?
Salesforce has listed nine key features for the Service Cloud platform:
Agent Workspace: A comprehensive and customizable user interface (UI) for customer service agents that offers a variety of productivity tools, analytics, and customer views.
Case Management: Agents can use the Service Console to run multiple cases simultaneously across multiple channels. Case management is accessible through both desktop and mobile apps.
Knowledge Management: Agents can create and access resources in the company's knowledge base.
Service Process Automation: Support functions can be automated with artificial intelligence (AI).
Multi-channel Routing: Cases and leads can be automatically forwarded to specific employees based on factors such as employee skill set and availability. Supervisors have access to a complete view of referral and agent activity.
Service Analytics: Dashboards provide employees with easy access to reporting and key CRM data such as backlog analysis, chatbot performance, case history and volume, and agent productivity and activity.
Computer telephone integration (CTI): Service calls to and from customers can be managed with customer information at hand.

Automation with macros: Repetitive customer service tasks can be automated.

Asset and order management: Tracks customer data such as assets, order history, and support history.

Multichannel: Your company can integrate all the channels you serve your customers in a single application. Call center personnel can access all the information they need from a single screen, send e-mails while continuing to talk to the customer, and answer customers' questions via social media.
Flexible Platform: You can integrate Service Cloud with APIs (Application Programming Interface), other applications and software. Instead of struggling to find information between systems, you can find what you are looking for on a single screen and make the necessary updates.
Salesforce Knowledge: Salesforce Knowledge increases the efficiency of your customer service employees in incident management and prevents waste of time. Your customers can easily get the answers and services they want, regardless of the seniority and experience of the staff.
Collobrative Case Nutrition: Corporate communication network Chatter offers a feature where your employees can exchange ideas and collaborate to answer requests from your customers.
Live Chat: Salesforce Live Support allows you to find instant solutions to customer problems coming from your website and corporate mobile applications.
Mobile: Salesforce, as a cloud-based mobile application platform, provides case records from anywhere. It enables employees to create and update records without going to the office.
360 View of the Customer: Sales and Service departments should be directed through the same platform. Salesforce offers sales and service management on the same platform so that you can remember the preferences of customers and provide them with an efficient service.
In addition to all these, Service Cloud also has different features:
Customized reporting,

multiple languages,

Multi-channel integration for platforms such as Facebook Messenger and text messaging,

Usable via a mobile application,

Integration with legacy systems,

Live agent web chats,

role-based permissions,

team collaboration systems,

Community Cloud integration,

Service level agreements (SLAs) with visual timelines

Service rights.
How can you increase your customer satisfaction with Service Cloud?
Customers want faster and more flexible service in the channels they prefer, anytime, anywhere. Service Cloud - With the Service Cloud, you can offer your customers the service they want, surprise them and make your team work more efficiently. With the knowledge base feature that Service Cloud offers so that you can quickly answer your customers' questions, you can create a resource where both the support team can access information and the customers can find solutions to their problems through the portal. The easy-to-use and customizable platform can be accessed from anywhere at any time with the advantage of being cloud-based. You do not need to make costly hardware and software investments.
Service Cloud is a flexible platform. As your business grows, you can increase the number of users and change your license package as your needs increase.
What is the Difference Between Salesforce Sales Cloud and Service Cloud?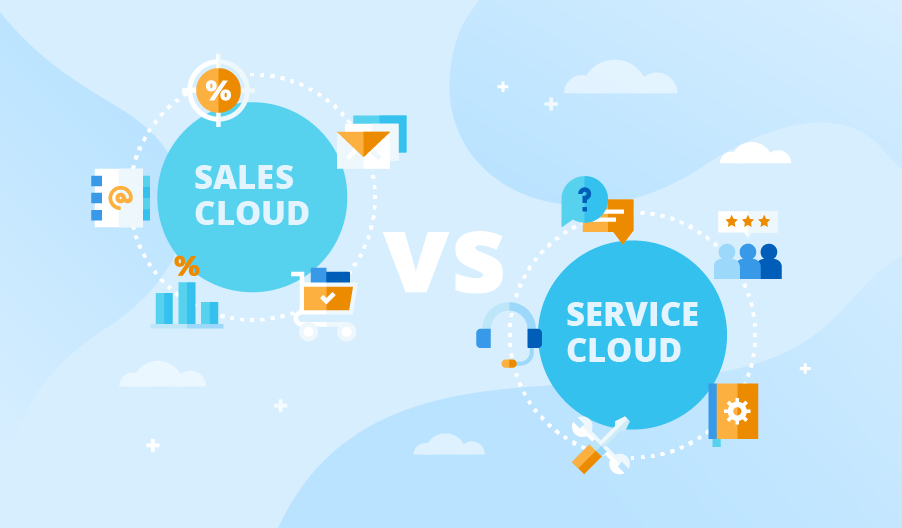 When customers sign up for Salesforce products, they have the option to choose between the Sales Cloud and Service Cloud modules. There is significant overlap between the two modules. The Sales Cloud product is used by businesses that focus on generating leads, opportunities, and sales. However, Salesforce Service Cloud includes all the features of Sales Cloud plus additional features for service-oriented businesses with higher support process demands.
Conclusion
Salesforce gives you the tools you need to wow your customers and make your service team incredibly productive. With each customer's data available during any interaction, your team can ensure customer success more easily.
The Service Cloud platform is a customer support platform that gives your agents superpowers to deliver service that's as instant and easy as a conversation. Not only that, but your customers can choose how to reach out and start a conversation with you, anywhere, and on any device. Email, phone, SMS, social media, self-service sites, or real-time web chat. Every channel is open for your agents to respond to whatever your customers need—and that keeps your customers very happy. Let's check out a few ways the Service Cloud platform supercharges agent productivity.