Genie Customer Data Cloud and Tableau release customer data and enable the delivery of real-time, actionable insights at scale.
Now, every business can see, automate, investigate, and act on data from any source with Tableau.
During Cyber Week 2022, Genie Customer Data Cloud will have powered 43 billion consumer encounters and ingested 1.1 trillion records for Salesforce clients.
Customers such as Formula 1®, Inter, and Casey's are utilizing Genie Consumer Data Cloud to revolutionize their customer relationships by delivering real-time, tailored experiences at hyperscale.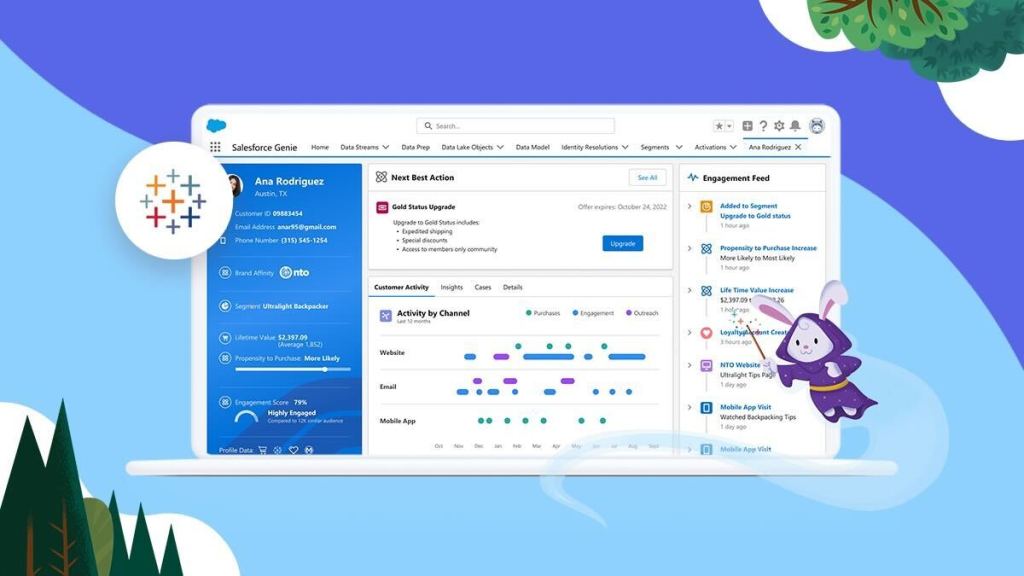 The number one CRM data cloud, Genie Customer Data Cloud, is now powered by Tableau, enabling businesses to better understand and unlock customer data and offer actionable insights in real-time and at scale. Using Tableau, any organization can now analyze billions of data points saved and harmonized in Genie, visualize, explore, automate insights, and take secure action. In addition, because Genie is natively connected with Tableau, businesses may save data warehousing expenses, accelerate time to insight, and improve decision making by consolidating all their data and analytics in a single location.
Genie Customer Data Cloud currently processes an average of more than 100 billion customer records per day throughout the whole Salesforce Customer 360, empowering every organization to use data and become a customer company by saving time and money while increasing revenue with the world's leading CRM.
The Genie Customer Data Cloud ingests, harmonizes, and combines all of a company's customer data across channels and interactions into a single, real-time customer profile, thereby making every experience throughout the Customer 360 more automated, intelligent, integrated, and real-time.
The expansion of customer firms
In the current economic climate, every business must prioritize their clients, and it all begins with data. Massive amounts of data are fragmented, disparate, and difficult to manage for businesses. In the past, businesses were required to construct complicated data pipelines, which led to issues with data duplication, static or out-of-date data, and eventually, delayed or erroneous decision making. To be successful, businesses must have access to enormous amounts of data from Salesforce and other sources that inform business choices in relevant, simple ways. With Genie Customer Data Cloud powered by Tableau, businesses can efficiently and at scale incorporate standardized customer data, engagement data, and external data.
"Genie Customer Data Cloud is revolutionary because it is the first platform that can deliver real-time personalized customer engagement across every sales, service, marketing, commerce, and IT touchpoint." - STEVE FISHER, EVP AND GM, NEXT GEN CRM AND UNIFIED DATA SERVICES, SALESFORCE
Genie Cloud for Customer Data, Powered by Tableau
Customers in all industries can now see, automate, analyze, and act on data in real time using Tableau to power Genie Customer Data Cloud. This simply means:
Marketers can use data to identify the elements influencing customer attitudes and actions and optimize each shopping cart with personalized suggestions. Real-time sales, commerce, and web traffic data may help organizations scale fast to meet demand, creating a perfect customer experience and tying engagement to activity, such as after unforeseen endorsements or a popular video on social media.
Service executives can access real-time data on customer activities, such as the contents of a client's shopping cart, to route consumers to the most qualified agents. Once connected, Genie gives the agent with a unified customer profile so that they can customize the customer's service experience.
Leaders in the automotive industry can gain insight on daily and monthly driving lengths and journeys by model and region, enabling them to comprehend driving habits and usage in order to promote the sale of subscription services and improve customer support.
Retailers can get relevant insights from their vast trove of customer data. A comprehensive understanding of consumer data facilitates the creation of individualized shopping experiences and enables businesses to make informed decisions regarding marketing, sales, and customer loyalty.
Financial services firms can leverage client actions and life events to better understand their clients' financial needs and assist them in proactively making plans for significant life milestones like buying a new home, paying for college, or preparing for retirement.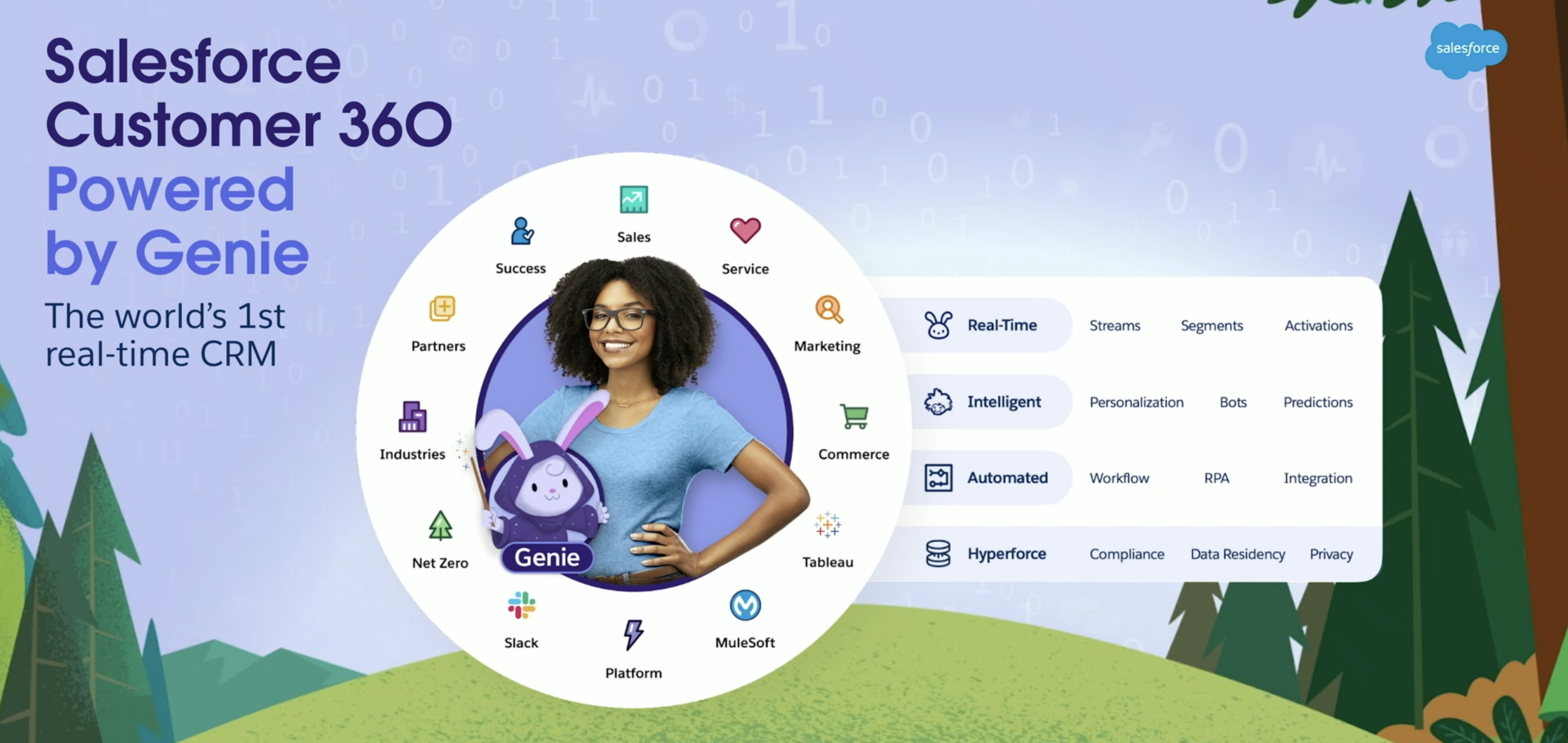 With Genie Customer Data Cloud, businesses across all industries can harness their data within Salesforce to generate the most pertinent business outcomes. Whether it's patient data for healthcare, telemetry data for manufacturing, or shopper data for retail, Genie is capable of ingesting all data in real time and generating personalized actions across the Customer 360.
Formula 1® uses Genie to increase fan engagement and acquire new fans.
Formula 1® has experienced tremendous growth in recent years, and its 500 million global fans and 1.5 billion global TV viewers are at the core of everything it does. Formula 1 worked with Salesforce to obtain a comprehensive perspective of its following, intensify and broaden fan engagement, and recruit new fans. Genie helps Formula 1 to comprehend how its data combines across all channels – physical and nonphysical, domestic and international. Using AI and automation, Salesforce enables the business to deliver scalable, hyper-personalized, and real-time experiences to its expanding fan base. Formula 1 can now store and manage its fan data on a unified platform, Genie Customer Data Cloud, as opposed to a collection of disparate systems.
Inter reaches the appropriate client at the appropriate time with personalized and automated actions.
Inter, a Brazilian financial services platform, utilizes Marketing Cloud, Sales Cloud, Service Cloud, Experience Cloud, CDP powered by Genie, Tableau, and Einstein's artificial intelligence capabilities to gain a holistic picture of customer behavior across all service verticals. This is now an integral element of their business, which enables users to bank and make purchases such as plane tickets and insurance, among others. Inter has experienced a 20x return on investment with CDP powered by Genie Customer Data Cloud and a 35x conversion rate for marketing campaigns.
Casey's intensifies their emphasis on personalisation to increase customer loyalty and commercial effect.
Casey's, the third-largest convenience store company in the United States with over 2,400 locations, engages millions of visitors annually with fast and easy service, and now with tailored digital experiences. Casey's uses CDP powered by Genie to develop audience segments from over 13 million customer records 30 times faster than before by leveraging first-party data. Casey's combines data from online orders, in-store transactions, and emails through enhanced customer data management, enabling the organization to send appropriate communications at scale.