Order management is a complex procedure that culminates in a moment of truth, which occurs when a merchant meets the brand promise made to clients. Once a customer hits the "purchase" button or completes the checkout process, order management begins shipping and delivering the merchandise.
Consider the route that your favorite pair of jeans must travel to reach your house or a local store's rack. The "gotcha!" moment that occurs when you finally hold your denim in your hands is the result of an elaborate set of actions and interconnected elements. The ordering and fulfillment procedure for jeans, along with millions of other products, can build or destroy a brand's connection with a customer.
What is Order Management System?
Order management systems (OMS) are everything that occurs after the purchase button is clicked. This covers the processes, people, systems, and partnerships required to fulfill an order. It is a platform for managing orders, customer information, fulfillment, inventory visibility, payments & billing, and customer support. However, the foundation of contemporary order management systems is significantly more robust.
Customers anticipate a flawless experience from the moment they check out until they receive their product. They also desire comprehensive order status transparency. Consumers and B2B purchasers want to know if there is an issue in transit, as well as their location and the ease of returns.
Then, what occurs when a customer clicks the buy button?
Historically, order management systems were limited to back-office systems, generally within a company's logistics division. In a customer-centric economy, order management is crucial to the total customer experience, hence this strategy is ineffective. This moment represents the culmination of the entire customer relationship management (CRM) lifecycle, including brand awareness, marketing, site experience, consideration, acquisition, and conversion. Order management is, in reality, the most crucial point of value exchange. If brands fail to live up to their part of the value exchange (receiving payment for goods or services), does anything that came before really matter? Order management systems must fulfill this brand guarantee.
Then, what occurs when a customer clicks the buy button? Once a customer enters the checkout process, a complex dance begins to fulfill the order. Up to 39 distinct systems may interact with storefronts to fulfill an order. Tax, payment, fraud, inventory management, accounting, enterprise resource planning (ERP), and shipping are the most prevalent. Here is the detailed procedure:
1. To prevent sell-throughs and overstocks, a retailer must have an accurate perspective of inventory counts.
As products might be transported from many locations, warehouses, showrooms, distribution centers, retailers, or even a third party, this view helps determine the shipment origin.
2. After verifying inventories, examine order routing
Standardize the items and shipping. Or, is there a customization procedure that can direct shipments to a particular warehouse? For bespoke orders, a team may require instructions to manually assemble a customized product.
3. Next, shipping system integrations
Rapid and adaptable shipping alternatives are crucial to gaining customer loyalty and confidence. In fact, 57% of buyers responded that same-day delivery would increase their brand loyalty. The expectations of B2B buyers are likewise increasing. They now anticipate having the same alternatives as consumers. Digital channels account for around 40 percent of B2B internet transactions, per The State of Commerce.
4. Finally, there is delivery
After the things have been selected, packed, and prepared for shipment, payment is collected and the items are sent to the purchaser.
Order management is the driving force behind every step of the fulfillment process for both B2C and B2B customers. Consider it the conductor of a complex set of business logic and operations that move an order from the shopping cart to the customer.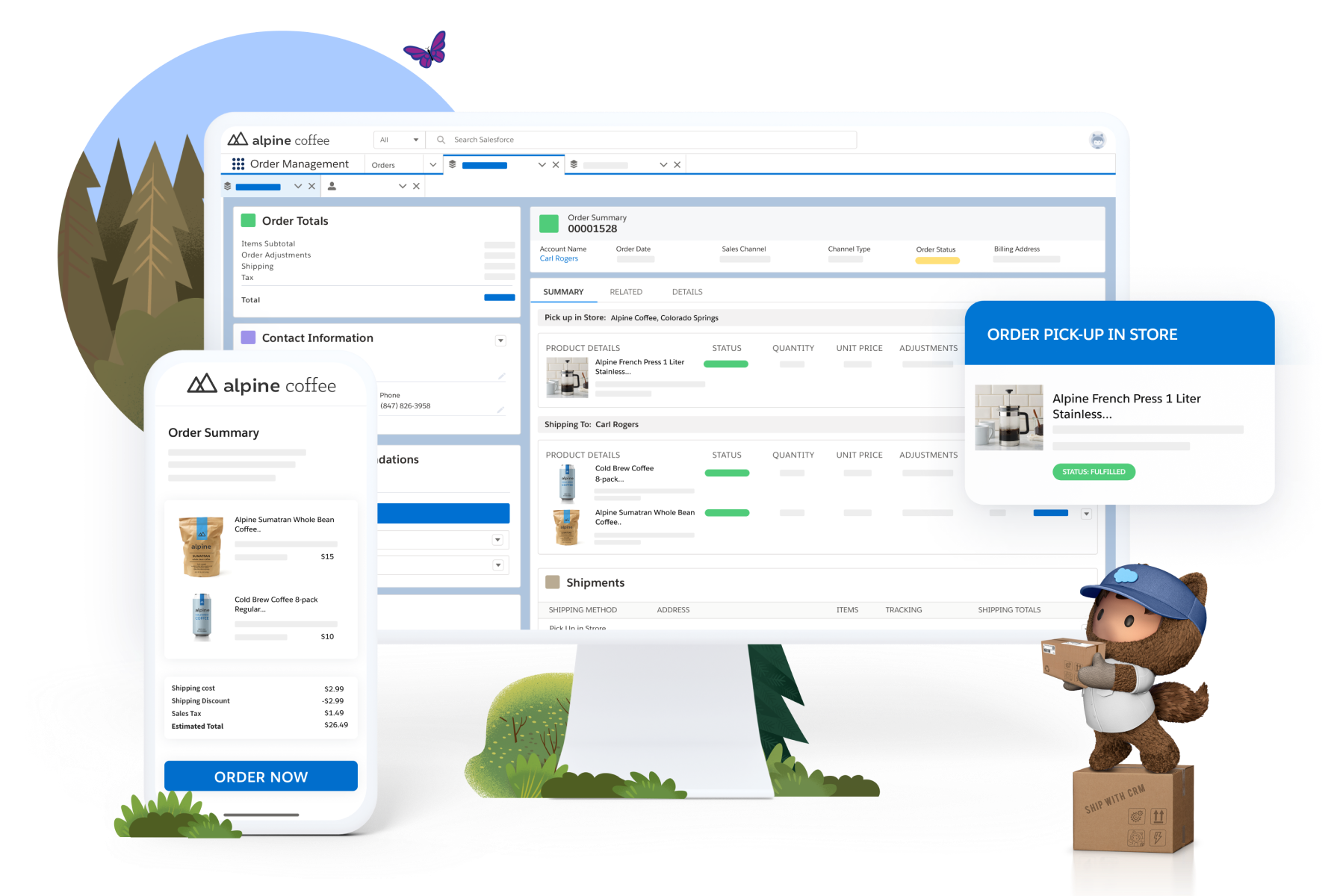 Excellent order management can improve the customer experience
An exponential shopping experience is centered on the order and fulfillment processes. Customer-centric order management systems of the next generation are crucial to the front office. Why? Because these junctures can either frustrate or amaze shoppers. They influence whether a customer completes a transaction and becomes a loyal client or navigates to a competitor's website. Let's examine some of these instances.
Implement an order management system
OMS is not limited to order processing. It integrates customer-facing technologies, such as ERP, CRM, sales, service, and commerce, that impact the post-purchase experience. On a unified platform, OMS makes everything available and accessible to all parties.
Salesforce refers to this as customer-focused order management. Salesforce Order Management, a customizable OMS designed to enable omni-channel journeys on a global scale, drives this sea change. It is pre-connected to Commerce Cloud and natively supports Service Cloud and Sales Cloud for a consolidated view of a customer's order and transaction history. It is also part of an ecosystem that supports hundreds of pre-built connectors, all of which contributes to a quicker time to value and, most importantly, satisfied consumers.