Many businesses come to us frustrated because they are unable to easily answer questions such as "what do you do with your customer data?" and "how can you use that data to grow your business and your relationships?". Marketing does not share data with sales. Marketing is unaware of which customers have open service tickets. Regarding marketing campaigns, business lacks transparency.
Customers' expectations are at an all-time high, and the economy is difficult, so you must be as efficient and effective as possible. Customer relationship management (CRM) software from Salesforce eliminates technological silos between departments.
Customer 360 describes Salesforce's entire portfolio of products and services. It's how you can unite all of your teams — marketing, sales, commerce, service, and IT — with a single shared view of every customer, so that your employees have all the pertinent data they need to create exceptional customer experiences and cultivate relationships.
Real-time customer data from tech support chats, recent purchases, website behavior, and other sources flows throughout your organization. Your sales team is well-versed in the products it offers. Your service team assists customers more quickly. Or even better, customers are empowered to resolve their own issues using automated self-service tools. The ability to automate and consolidate millions of data points in real time generates a unique customer experience. Customers' needs are met and their confidence in you grows.
Customer 360 reduces expenses by enabling your entire organization to utilize a single, dependable platform; it boosts productivity with built-in automation and intelligence; and it promotes efficient growth by empowering your employees to exceed customer expectations.
Looking for the best part? Customer 360 is applicable to every industry, business size, and growth stage. And it's flexible, so you can tailor the apps and tools you need to meet your business's current needs and scale as your business grows or its needs change.
How does Salesforce work?
A further feature of our CRM platform is that it resides in the cloud. This means that regardless of their physical location, all of your teams are connected on a single platform. Our platform is built on Hyperforce, our next-generation infrastructure, which enables Salesforce applications to scale quickly and allows you to choose where in the world your Salesforce applications run.
On top of Hyperforce is our most recent innovation, the Genie Customer Data Cloud, which enables you to maximize all of your data. Genie connects your historical, web, mobile, API, CRM, and even real-time data so that all of your teams have a comprehensive view of your customers and their interactions with your business. This enables your teams to hyper-personalize every customer touchpoint, allowing you to build stronger customer relationships at scale.
And now with Slack, Customer 360 streamlines communication and information sharing with customers, teams, and partners to enable digital workflows for a new way of working. Overall, Salesforce Customer 360 is your current solution for success.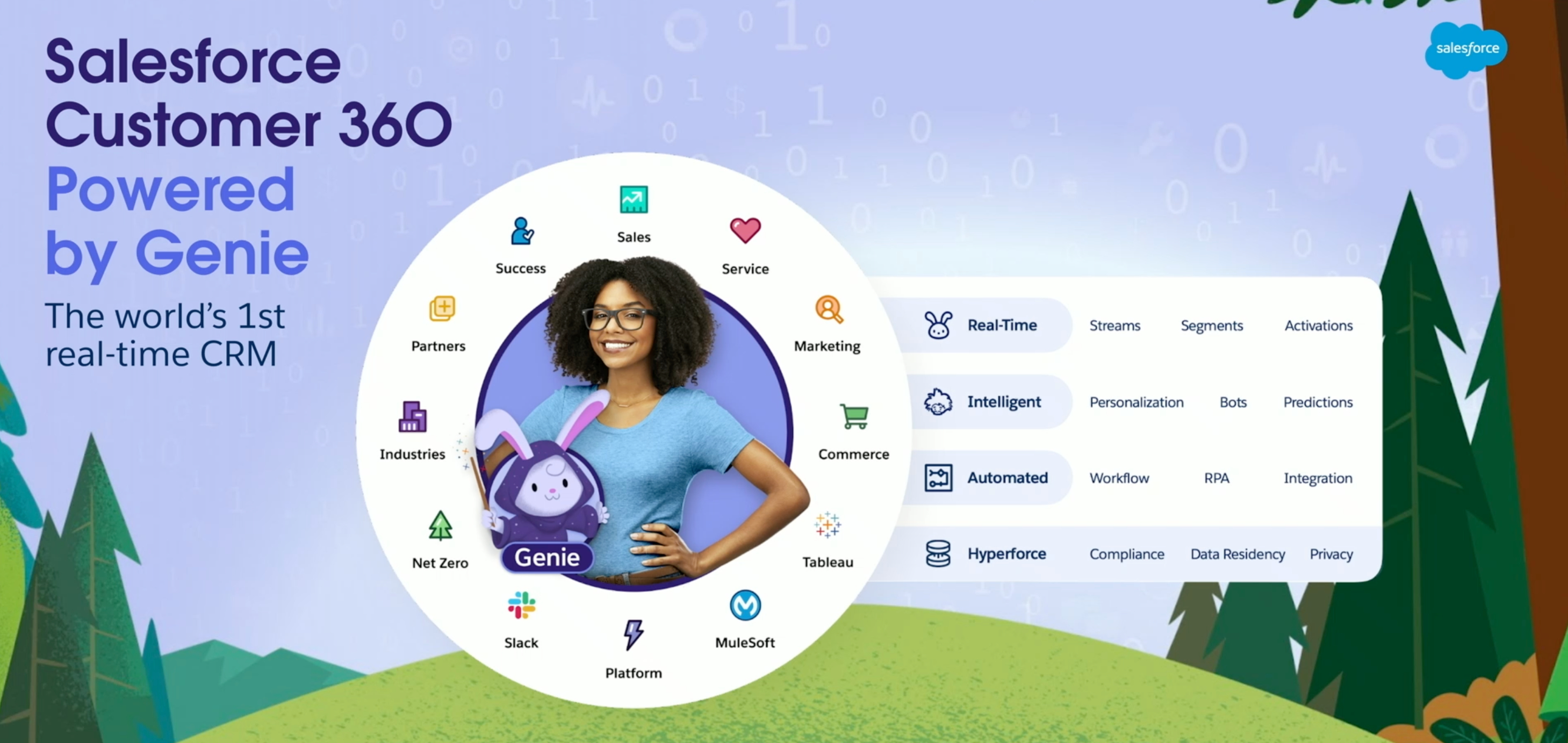 Customer 360 includes apps for marketing, sales, commerce, service, and IT to propel business forward; with Genie, our apps are paired with automation, intelligence, and real-time data to enable you to create customer magic from a single, trusted platform.
How can Salesforce be used for marketing?
Marketing Cloud enables you to save time, boost productivity, and connect with customers on their preferred channels, be they email, web, social, mobile, or any combination thereof. And with the assistance of unified analytics and AI insights, you can rest assured that you are optimizing campaign performance and making the most of every dollar. Marketing teams utilizing Salesforce anticipate a 31% average increase in customer engagement and a 27% average decrease in new customer acquisition costs.
With Marketing Cloud Customer Data Platform, now powered by Genie, you can comprehend your customers through real-time data and deliver hyper-personalized interactions everywhere with relevant messaging. Remember when marketers fantasized about delivering the right message at the right time and through the right channel? Well, now you can.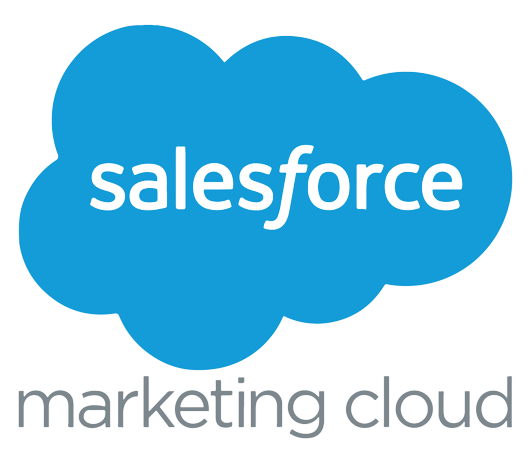 How do you use Salesforce for sales?
Did you know that Salesforce was designed for sales teams initially? Our objective is to assist sellers in lowering costs, increasing productivity, and closing more deals. After implementing Sales Cloud, our customers have, on average, realized up to 32% cost savings**, 29% higher sales productivity, and 27% higher win rates.
A centralized platform for streamlining and managing the entire sales cycle, from prospecting to deal close, including upsell and cross-sell. With Sales Cloud, you can automate and scale all of your manual sales processes, inspect your pipelines and forecasts with pinpoint accuracy, connect all customer touchpoints for the best buying experience, and more.
Sales Cloud provides sellers with real-time insights and recommendations that enable them to spend less time on administrative tasks and more time closing deals. Moreover, by integrating sales with marketing, customer service, and other departments, your opportunities expand and your customers' interactions feel more seamless and engaging.
Can Salesforce also support B2C and B2B commerce and shopping?
Salesforce provides tools for creating simple, seamless business-to-consumer (B2C) and business-to-business (B2B) commerce experiences that help increase revenue, engage customers, and connect commerce with the rest of the business.
Even if a customer begins their shopping journey on one channel and completes it on another, Commerce Cloud can help you maximize revenue by creating personalized shopping experiences across channels and removing friction from the buying experience.
In fact, Commerce Cloud clients experience a 26% reduction in order placement costs and a 29% increase in online revenue*. Because of this, industry-leading brands rely on e-commerce tools.
How do you use Salesforce for Customer Service?
With Service Cloud, Salesforce clients reduce their average support costs by 27%*. Our leading customer service tools enable you to scale service that customers adore while maximizing return on investment and driving efficiencies from the contact center to the field — all on a single platform. Customers today expect to interact with your company via their preferred channels. We can assist you in managing these vital touchpoints in order to deliver seamless customer experiences, including customer service, self-service channels, field service, and digital channels such as chat, SMS, and social messaging apps.
With automation and intelligence, your agents can resolve cases more quickly, provide instant support, and have a comprehensive and up-to-date view of each customer interaction.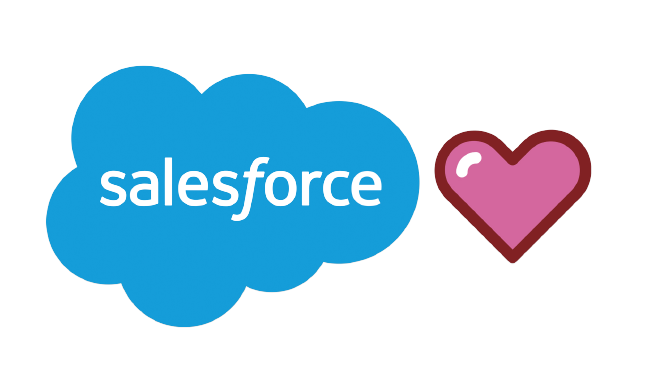 What about IT?
Whether or not your team is tech-savvy, our integrated Information Technology (IT) tools can assist your entire organization in automating processes, developing more intelligent applications, and securing data throughout Customer 360. We'll put you on the path to increased productivity by automating processes that enable teams across your organization to improve scalability, visibility, and security on demand. *With Salesforce, IT costs are reduced by 25% for businesses.
Why is Salesforce so customer-centric?
Since Salesforce has always been customer-centric, one of our core values is customer success. While we are aware that our customers face economic challenges, supply chain challenges, and staffing shortages, we also know that businesses cannot be successful without putting the customer first. Every business must be a customer business.
According to Salesforce's State of the Connected Customer report, an astounding 88% of customers believe that a company's experience is as important as its products and services. This implies that it is essential to consider not only what you offer customers, but also when, where, why, and how you reach them.
Customers today want to believe they are receiving what they need, when and where they need it. They desire effortless experiences and are loyal to brands they can rely on. Salesforce's connected customer experiences aid in fostering this confidence.